Larry's Country Diner With Corral Boots
Sep 22, 2022
Larry's Country Diner with Corral Boots (S22:E19)

It's Time For the 47th Annual Cavender's PFI Tent Sale!
On this week's episode of Larry's Country Diner, Joe, Mike and Drew Cavender talk about the 47th Annual Cavender's PFI Tent Sale! This year's Tent Sale starts on Sept 28th and runs through October 9th. There are over 20,000 square feet of deals on boots, jeans, shirts, hats & more! Joe also talks about Corral boots and Cavender's tremendous selection, including Circle G and 'Shorties'.
And, don't forget, folks in our Midwest area locations in Omaha, Kansas City, Witchita and Springfield who spend $50 at these locations will be able to get a Boot Daddy hoodie for $12!
We at Cavender's want to promote and preserve the Western lifestyle. We live this lifestyle and wear what we sell. Our customers can depend on us to provide them with authentic, durable products. This is why we're proud to partner with the folks from Corral!
Circle G boots by Corral are handcrafted in Mexico fashionable and easy on the wallet. Corral takes pride in being innovators and pioneers within their craft, creating new ways and techniques that make their boots stand out among the crowd.
Make a statement with these Corral boots! They're brown leather with a black sequin inlay with embroidery and studs leather outsole pig lining insole western 2" heel single stitched welt and an 13" upper.
Boot Daddy Hoodie Promotion
Don't forget we also have our BootDaddy hoodie promotion going on in 4 of our Cavender's stores. Right now when you spend $50 you can get a BootDaddy hoodie for only $12 at our Omaha, Kansas City, Wichita, or Cavender's PFI locations.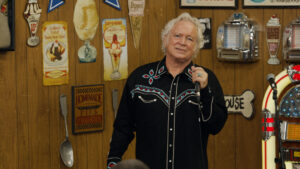 Performing Artist: T. Graham Brown. Season 22 Ep. 19 original airing on 9/23/2022