Koben Puckett PBR
Jul 6, 2022
Koben Puckett PBR

Now in it's eighth year, the Koben Puckett PBR returns to the Amarillo, Texas. Catch all of the bull riding action at the Amarillo National Center July 9, 2022 for this PBR Challenger Series event. The Challenger Series will run in conjunction with the PBR Team Series through November and conclude in Las Vegas at the Challenger Championship. The top 40 riders from the season will compete to win it all. Ticket sales from the Koben Puckett PBR support the Press On Foundation, a non-profit focusing on assisting individuals going through spinal cord injury recovery.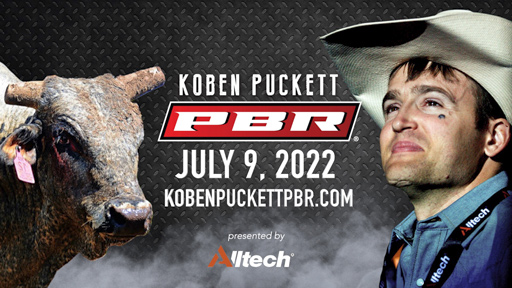 The event gets its namesake from former professional bull rider and Canyon, Texas native, Koben Puckett. Puckett was a rising star in the bull riding world with a bright future. Many saw Koben going all the way, that is until one ride stopped his dreams abruptly in its tracks.
Koben Puckett's Rodeo Legacy 
Coming from a rodeo family background, Puckett was no stranger to the bright lights of an arena. His father was a former Turquoise Circuit Champion Bull Rider, and his mother a barrel racer. Puckett quickly found that rodeo came second nature to him. While competing in jr. rodeo, high school rodeo, amateur rodeo, also open events, and finding success at all levels. Even at the young age of 12, the PBR World Finals in Las Vegas were his end game. The 2007 season was when Puckett first scratched the surface of his potential. He won several thousand dollars. It would be in 2008 that Puckett would find his traction, winning his first pro rodeo in Huntsville, Ala. at the young age of 19. He would continue to win events across the country, scoring multiple 90-point rides along the way.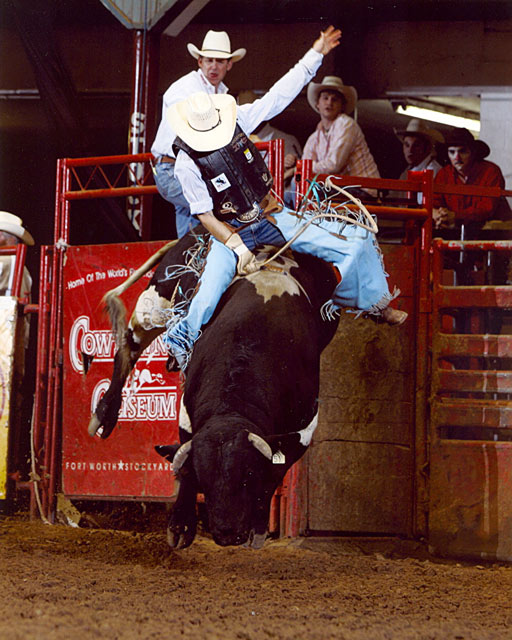 Unfortunately, this success would be short-lived. With the close of the season around the corner, Puckett headed to Mesquite, Texas. He hoped for another eight-second ride to end the season on a high note. Tragically, he was bucked off before the buzzer and came down on the back of his head. The 1,600-pound bull then preceded to step on Koben, ending his career within a matter of eight-seconds.
Koben Puckett's Road to Recovery 
From the start, physical therapists told Puckett's parents that he would need to face the reality of his situation. The initial fall from the bull had broken his neck, fracturing his C5-6 vertebrae. The impact from the bull stepping on him had also broken his lower ribs and back, puncturing his lungs. With the help of his family, Puckett spent nine months in California, followed by a six-month stint in Austin, Texas, in the pursuit of his recovery.
Puckett then found himself attempting procedures involving stem cells in Cyprus. The procedure was not yet legal in the United States. In Cyprus, they would take the liquid part of his bone marrow and adult stem cells and lay them in and around his injured vertebrae. Puckett made a significant stride in his recovery after this. He regained stamina and slight movement in his right arm. Unfortunately, funding for the stem cell procedure would be the next roadblock that he faced. Instead of letting this be the end of his road to recovery, he decided to host the first Koben Puckett Invitational.
Koben Puckett PBR Invitational
It had been eight years since Puckett had competed in the sport that shaped who he was. Eager to get back into the industry, he hosted his first bull riding event in 2014 in Amarillo, Texas. In 2015, only a year after the invitational's conception, the PBR sanctioned the rodeo for the competition season. Although Puckett was excited and grateful to be back in the rodeo scene held much of his identity, it wasn't his only reason for hosting the bull riding event. The funds from the rodeo allowed Puckett to overcome his fiscal roadblock and continue his stem cell procedures. Puckett was also able resume therapy in his home gym with the help of students from West Texas A&M pursuing a degree in physical therapy or occupational therapy.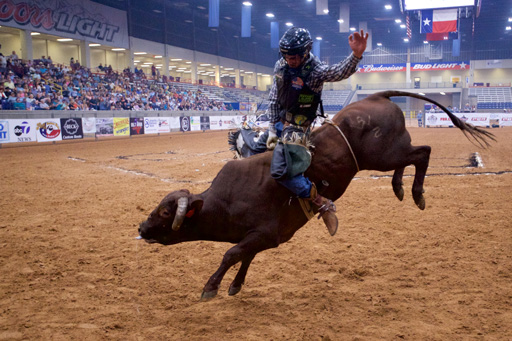 The Koben Puckett PBR Invitational quickly outgrew its outdoor arena in 2018. It had to find an alternate venue to host the ever-growing rodeo. With the help of his sponsors, Puckett was able to relocate to the indoor Amarillo National Center, as well increasing the rider purse to $20,000. This size of purse qualified Puckett's Invitational to be streamed on PBR RidePass on Pluto TV. Following the move, Puckett has not only seen the crowd size double, but the amount of money raised as well. Before the move in 2018, attendance hovered around 1,000 people, with money raised for spinal cord recovery efforts amounting to about $13,000. In 2021, Puckett recorded attendance exceeding 2,100, with funds raised reaching $30,000, all going towards the Press on Foundation.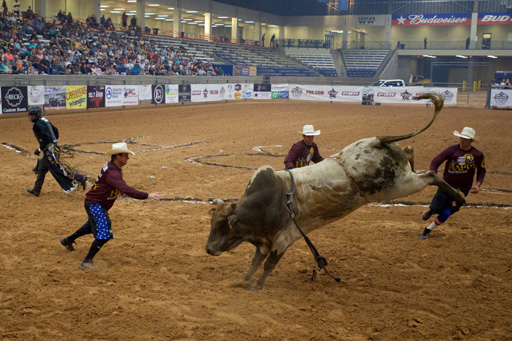 The Press On Foundation 
The Press On Foundation is a non-profit organization that was originally created by Puckett's mother to help raise funds for her son's spinal cord recovery. Today, it has now grown into a non-profit that is dedicated to assisting and serving those affected by Spinal Cord Injury. Press On serves those going through recovery in several ways. They provide information and support for those just beginning their surgery. They also strive to help provide funding for those undergoing physical therapy. The biggest roadblock of those undergoing physical therapy for Spinal Cord Injury is the cost of treatment. They currently have 6 individuals, including Puckett, receiving scholarships that help fund their therapy.
Puckett's Next Steps 
Puckett is still making strides, day by day, inch by inch, in his recovery. He has drastically improved the mobility of his right arm and core stability. His assisted standing exercise has seen immense growth. He has gone from only being able to stand for 10 minutes, to now being able to stand for upwards of 20 minutes or more. He is now able to send neurological signals to his glutes, hip flexors, and abdomen creating an active flexion. Although Puckett's recovery has relied heavily on his determination and dedication to recovery, he credits much to his friends, family, and most importantly, his faith. He says he strives to serve as a steward of his Heavenly Father. He wants to help those going through the same battle that he is and assisting them in any way possible.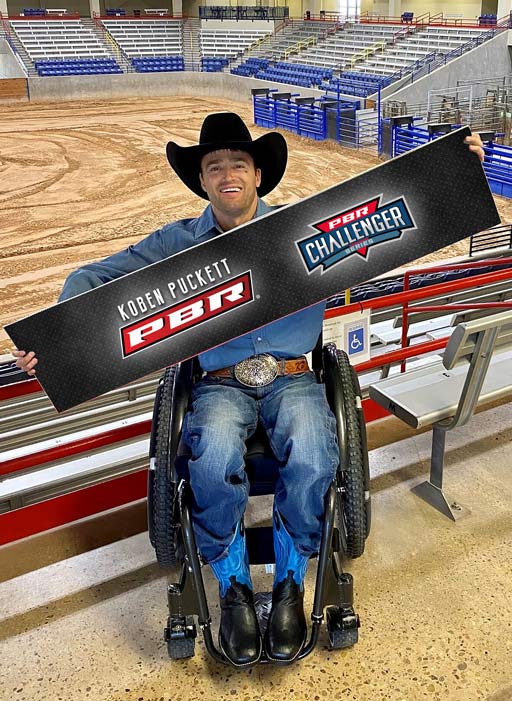 If you are interested in supporting Koben Puckett and others at the Press On Foundation with their Spinal Cord Injury recovery, make sure to find yourself in Amarillo, Texas, July 9th at the Koben Puckett PBR Invitational at Amarillo National Center. You can also donate directly to the organization here.