Larry's Country Diner with Men's Cavender's by Old Gringo Boots (S22:E10)
Jun 9, 2022
Larry's Country Diner with men's Cavender's by Old Gringo Boots (S22:E10)

Joe Cavender explains that as a family-owned and operated business, one of Cavender's core values is integrity. Integrity is the quality of being honest and having strong moral principles. With this core value in mind, Cavender's as a company, prides itself in picking out the very best products for its customers.
Cavender's chooses business partners in the western industry to work with based on their values as well. Fred Gibbon of Old Gringo boots has been working with Cavender's since 1979. As a business partner, he helps design exclusive boot styles just for Cavender's stores. From the leathers in the boots to the design, all of the Cavender's by Old Gringo boots are different than what you can find anywhere else. Today Fred brought men's caiman crocodile Cavender's cowboy boots to share with the Larry's Country Diner audience. As a Father's Day promotion, if you buy a pair of men's Cavender's by Old Gringo boots in-store, you can get a matching Cavender's men's belt for 20% off through the end of June 2022.
Another popular Cavender's by Old Gringo men's style is the patchwork caiman boot. Cavender's offers this boot in three different colors along with matching men's belts. You can also get one of these men's belts for 20% off through the end of June 2022 when you purchase one of our matching Cavender's by Old Gringo patchwork caiman boots in-store.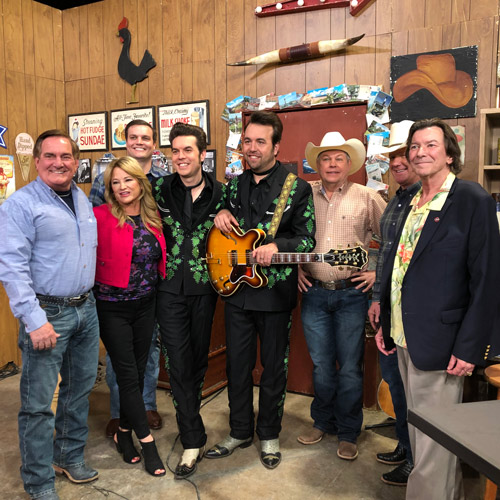 Kubota Sidekick RTV Giveaway
Drew Cavender is on the show today reminding all Larry's Country Diner fans to enter our huge Kubota Sidekick giveaway when they visit our Cavender's PFI location in Springfield, MO. Just come in to the store and enter to win before June 16, 2022. This RTV would make a great Father's Day gift for any dad!
BootDaddy Hoodie Promotion
Another great promotion we have going on is the BootDaddy hoodie promotion. Now when you spend $50 or more at our Omaha, Kansas City, Wichita, or Cavender's PFI locations you can purchase a BootDaddy hoodie in-store for only $12.
Performing Artist: The Malpass Brothers Season 22 Ep. 10 original airing on 6/9/2022.