Larry's Country Diner with Rafter C Shirts (S22:E11)
Jun 16, 2022
Larry's Country Diner with Rafter C Shirts (S22:E11)

Cavender's is all about great customer service and great products. That's why we've always had a passion for design and development. Cavender's Rafter C brand was created 12 years ago, but the brand Rafter C goes back to 1945. James Cavender and his father L.O. started raising cattle in 1945 and using Rafter C to brand their herd. James Cavender continued that cattle business all his life. Today, Joe Cavender runs the same operation. He is proud to be a third generation cattleman. He's even brought his Cavender-Draggin' M and Partners spring bull catalogue to the Larry's Country Diner taping.
Clay Cavender used his families Rafter C brand as the inspiration behind the Cavender's Rafter C line of men's western shirts. Clay designs all of the styles in the Rafter C collection. All of the men's Rafter C woven shirts have western yokes and pearl snaps. They even come in a variety of prints, plaids, and solid colors. Now through Father's Day, June 19, 2022, when you buy 1 Rafter C men's shirt you'll get 1 50% off.
One of the signature looks of the men's Rafter C collection is that each shirt comes with pearl snaps. Even the Rafter C men's polos. Ben Hall, the guitarist on this episode of Larry's Country Diner, is even wearing his Rafter C on the show today. Right now through the end of June 2022 you can buy 2, get 1 free on men's Rafter C polo shirts at all Cavender's stores and online at Cavenders.com.
We want all of our customers to know that when you come in to visit a Cavender's store, please mention that you've seen us on Larry's Country Diner. We look forward to meeting each of you!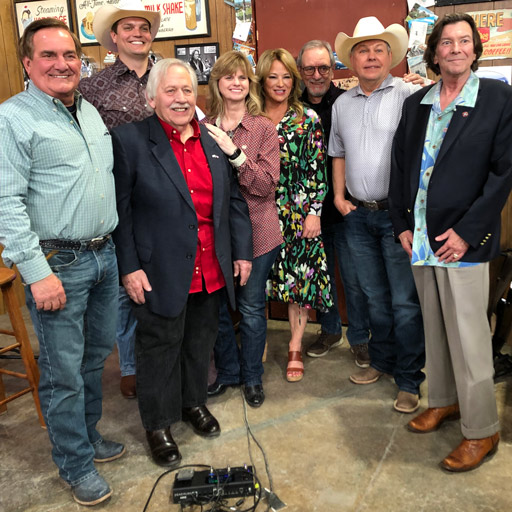 Performing Artist: John Conlee Season 22 Ep. 11 original airing on 6/16/2022.