Top 10 Summer Staples
Jun 20, 2022
Top 10 Summer Staples to Make it Your Best Summer Yet

Warmer weather is here and it's time to break out the summer staples! With longer days in the sun come vacations, weddings, country concerts, summer camps, and all the activities. To keep cool in style, you need a few summer essentials that can keep up. From your straw hat to your sandals – Cavender's has you covered. Get ready for the Best. Summer. Ever.
Here are our top ten summer staples, with all the fan-favorite western brands. You can go from beach days to rodeo nights in style.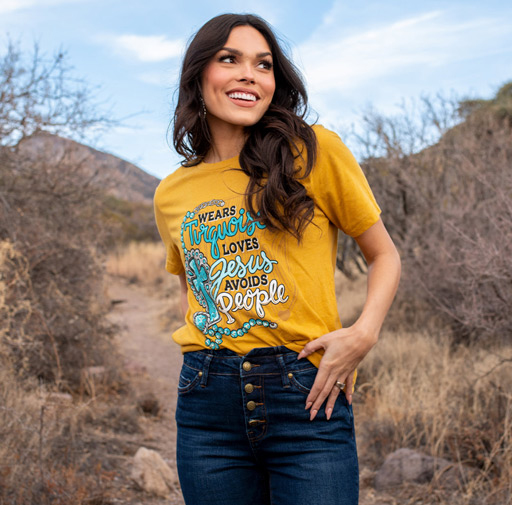 Lazy summer days call for throwing on something light and comfy. Cotton blends are great for wicking moisture and fun graphics keep you from taking life too seriously. We have a ton of T-shirts to choose from so you're sure to find something that you love. In the words of Bubba Gump, "T-shirts are the fruit of the summer." We have western T-shirts, cowboy T-shirts, Girlie Girl T-shirts, Ariat T-shirts, Dale Brisby T-shirts, Carhartt T-shirts… You get the idea!
Ways to style: One of the reasons T-shirts are a summer staple is because of their versatility. Style yours by creating a knot tie on the end, rolling the sleeves up for a classic but casual look. Pair one with shorts or pants to keep it simple, or even with a skirt to dress it up. You can size up your Tee and tuck it in or wear it over a swimsuit.
Where to wear: At the lake, by the pool, at the backyard BBQ, or around town; you choose where to wear.
When to wear it: When you're having a casual day and want to throw on something comfortable to wear. If you need something to keep you cool while outside at the lake or just watching the sunset over the rolling hills.
Why it's a staple: Our men's T-shirts and women's T-shirts are a summer staple because they're breathable, versatile and easy to wash.
Fan-favorite T-shirt brands: Our most popular T-shirt brands include Ariat, Girlie Girl Originals, Cowboy Hardware, Dale Brisby, Rowdy Crowd and Wrangler.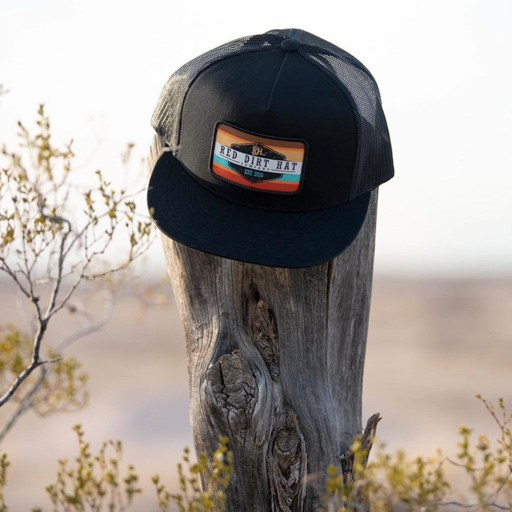 Baseball caps are true summer staples in both their functionality (protecting your eyes and face from the sun) and their ability to make you look put together in under a second. Didn't wash your hair? Ball cap. Dirty and sweaty from a day of working in the heat? Ball cap. Need to hide sticky, stringy, pool hair? Ball cap.
Ways to style: Ball caps are the king (or queen) of casual. Style them by pairing them with a T-shirt, jeans and boots, or shorts and casual shoes.
Where to wear: Anywhere outside, just never during the national anthem.
When to wear it: When working outside, while fishing, at your kid's sports practice, while camping, the possibilities are endless.
Why it's a staple: Ball caps are a classic summer staple because they're protective, stylish, and are one of the easiest ways to pull an outfit together.
Fan-favorite ball cap brands: Our most popular ball cap brands include Ariat, Hooey, Red Dirt Hat Co., Kimes Ranch, and Lazy J Ranch Wear.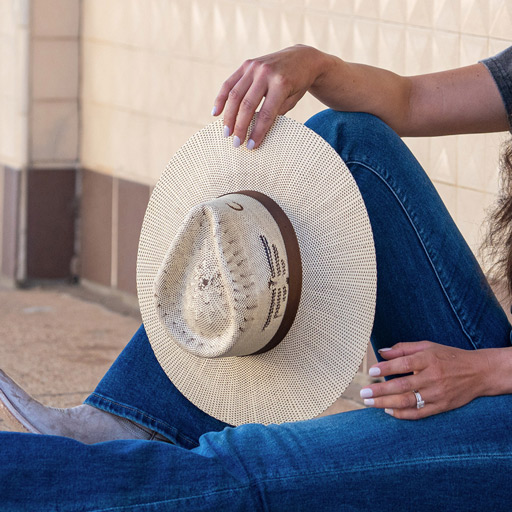 If a ball cap is the fun little brother, then the straw hat is the sophisticated older sibling who always looks effortlessly cool. For those hotter than hot summer days, reach for a straw hat to keep you cool. Lightweight and often vented, straw hats provide sun protection and look good without making your head sweaty.
Ways to style: Straw hats are extremely versatile. Style them with work shirts, jeans and boots, or wear them dressed up with dresses or skirts for summer festivals or outdoor events.
Where to wear: Anywhere outside. But just as there's a rule to never wear white after Labor Day, many recommend only wearing your straw hat during the summer months.
When to wear it: While working in the heat, while at the rodeo, at outdoor country concerts, and at festivals.
Why it's a staple: Straw hats are a summer staple because they're lightweight, breathable, protect you from the sun, and can dress up any outfit.
Fan-favorite straw hat brands: Our most popular straw-hat brands include Cavender's, Stetson, Resistol, Charlie 1 Horse (Women's), and American Hat Co.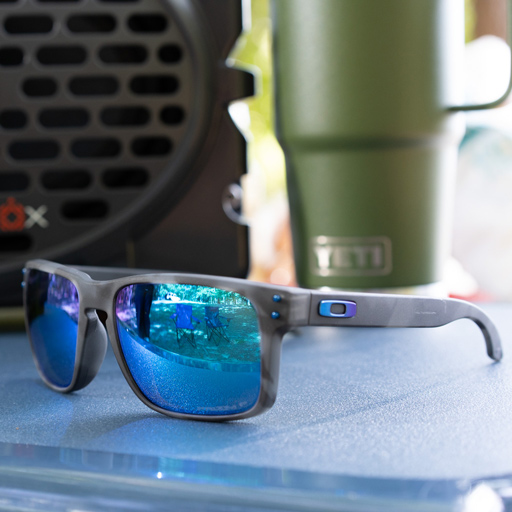 Sunglasses are the classic summer staple. Can you even get through an entire summer without a pair of reliable sunglasses? No. No you can't. But the type of sunglasses matters. Don't skimp out when it comes to protecting your eyes.
Ways to style: Sunglasses go with any outfit, but some have more casual looks and others are more sophisticated. While fishing or outside working the ranch, go with polarized sunglasses to reduce the glare from the sun on the water.
Where to wear: During any outdoor activity, particularly while fishing at the lake, or while lounging at the pool or beach.
When to wear it: Sunglasses are necessary eye protection during the glaring, sunshiny months. Wear them any time you're outside and it's sunny. Perfect to wear while driving the tractor. You could wear them inside or at night, but we might judge you a little bit.
Why it's a staple: Sunglasses are a summer staple because they protect your eyes with different UV features and look stylish with anything.
Fan-favorite sunglasses brands: Our most popular sunglasses brands include BEX, Oakley, and Costa.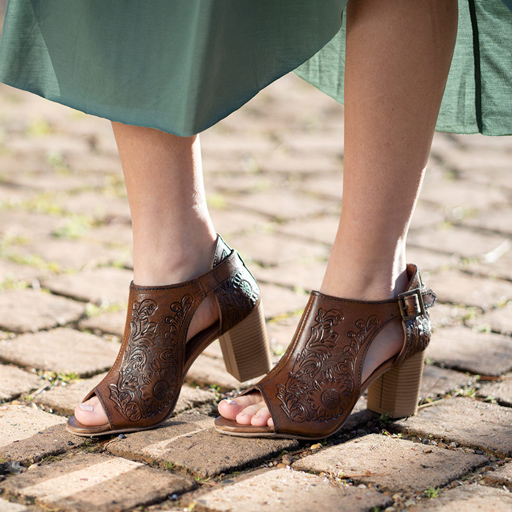 Sandals are perfect for outdoor summer events. And there are so many different options: flip flops, wedges, casual, or dressy. So, whether you are dancing the night away at the honky-tonk, or just relaxing at the beach, we have a pair for you.
Ways to style: For weddings, date nights or big events, wedge sandals are a comfortable but dressy option. Classic leather and leather-look sandals are perfect for outdoor concerts or festivals when you'll be on your feet a lot but still want to look dressy. Flip-flops are comfy and perfect for the beach, lake or poolside.
Where to wear: Weddings, festivals, outdoor concerts, at the lake, on the beach.
When to wear it: When you want to be comfortable but look cute, or dress casual but still look put together.
Why it's a staple: The versatility and breathability make sandals a top summer staple.
Fan-favorite sandals brands: Our most popular sandals brands include Corkys, Yellow Box, and Very G.
If you live south of the Mason-Dixon line, you know summers get hot and humid, with the peak typically being around sometime in July. Pants during this time become pretty unbearable. Thankfully, women have the option of opting out of pants in favor of skirts and dresses. Plus, they're really cute!
Ways to style: We offer a wide variety of fun, summery dresses and skirts. The ways to style them depend on the piece but are practically endless. For a casual but cute look try styling a skirt with a fun T-shirt, or style them with boots. Dresses can be paired with hats or dressed up with heels, or simply slipped over a swimsuit for lounging by the pool.
Where to wear: Weddings, baby showers, brunch dates, music festivals, poolside.
When to wear it: When you want to be dressy and cute without having to break a sweat.
Why it's a staple: Light and flowy fabrics make dresses and skirts a perfect match to beat the heat of summer in. Plus they can be worn to endless summer events and fun activities.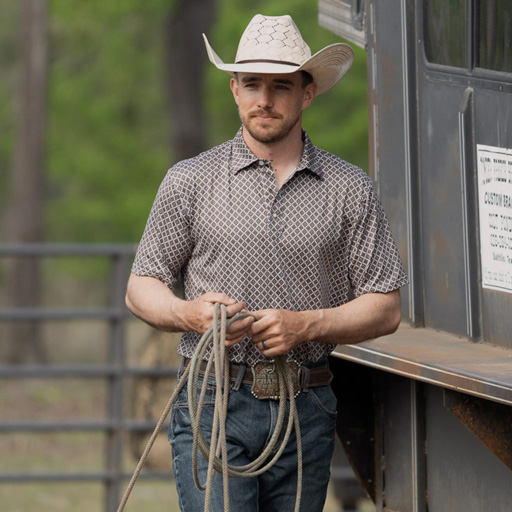 For long days fishing at the lake, or summer nights at the rodeo, short sleeve shirts make you look stylish without making you sweat. Western shirts, polos, and fishing shirts offer variety so you're ready at a moment's notice – no matter where your summer takes you.
Ways to style: Style your short sleeve shirts with jeans and boots, tucked in with a belt or left untucked for a more casual look. Polos can even be paired with shorts for a round of golf. Fishing shirts can be paired with shorts and sandals.
Where to wear: Fishing at the lake or beach, on the golf course, at the rodeo, at work.
When to wear it: When you can't decide if you should dress up or down for an event, you can't go wrong with a short sleeve button-up.
Why it's a staple: Because the fabric is breathable and lightweight, and due to the versatility, we'll keep our short sleeve shirts hanging up in our closet all summer long – and after too.
Fan-favorite men's short sleeve shirt brands: Our most popular men's short sleeve shirt brands include Rafter C and Ariat.
8. Summer Casual Shoes for Men and Women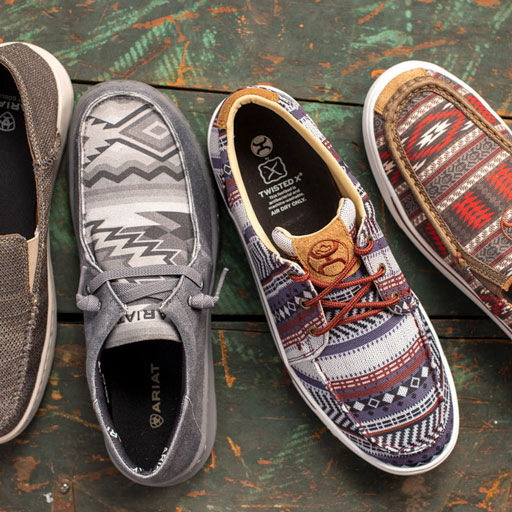 What is great about our casual shoes is that they're comfy but still look nice. We have shoes for going out and staying in, shoes for long summer days on the boat and moisture-wicking odor-resistant shoes for working, running, and playing – because that's what summer is all about.
Ways to style: The best thing about casual shoes is they look good with everything. You really can't mess it up. We like to pair ours with shorts or jeans and a t-shirt because comfort is king.
Where to wear: Around town, at the neighborhood block party, out on the boat.
When to wear it: Bring out your casual shoes for laidback events or when you need to be more active.
Why it's a staple: Casual shoes are a summer staple for both men and women who enjoy spending their summers being active and staying busy without sacrificing style.
Fan-favorite men's casual shoe brands: Our most popular men's casual shoe brands include Ariat, Twisted X and Justin.
Fan-favorite women's casual shoe brands: Our most popular women's casual shoe brands include Ariat, Twisted X, Gypsy Jazz, and Dingo.
Is there anything better than the first time you bring your shorts back out after lying dormant all winter? However, we often find that it's also around that time we realize we're in desperate need of new ones. Don't worry, we've got you covered. And browse our skorts while you're at it. These skirts with built-in shorts underneath, give you the cute look of wearing a skirt without feeling so exposed.
Ways to style: Shorts – and skorts for that matter – can be dressed up with a cute blouse, or down with a fun T–shirt. Rock them with a belt and a pair of boots for outdoor concerts and events, or sandals and a Tee for a more casual look.
Where to wear: Outdoor events, sports games, while driving down backroads, at a festival.
When to wear it: You can wear shorts any time there's a more casual event going on or on just a normal, summer day. Skorts can be dressed up or down and thus worn for events that require a more put-together look without sacrificing comfort.
Why it's a staple: Shorts and skorts tend to be the one item of clothing that comes out exclusively in the hot summer months, making them a true summer staple.
Fan-favorite shorts and skorts brands: Our most popular shorts and skorts brands include Wrangler and Rock & Roll Denim.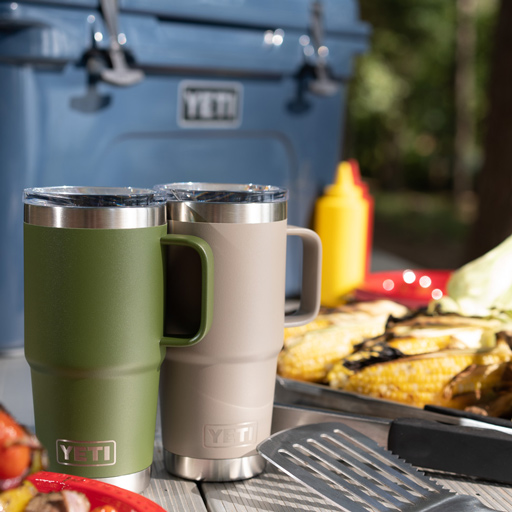 While you're outside enjoying the sunshine, beat the heat with a nice cold drink that actually stays cold. We love Yeti because it's designed to be durable enough for those rough and tumble summer nights out with friends at the bonfire, or tossed in the boat for a day of fishing or wakeboarding. And Yeti's insulated technology keeps your drinks cool even on the hottest summer day.
Where to use: While camping, at the beach, at the lake, in the back of a side-by-side, or while floating on a river or even every day at home or work. But who wants to think about work while playing in the summer?
Why it's a staple: That summer sun will dehydrate you quicker than a bucking horse shakes a rookie. Yeti koozies and coolers will keep your drink cool, and you hydrated, so you can enjoy staying outside awhile longer.
For all your summer staples in a one-stop-shop, be sure to visit us in stores or online. Cavender's is here to help you make the most of your summer. Tag us @Cavenders in your photos on social media this summer so we can see you living your best life out there!