Larry's Country Diner with Twisted X CellStretch Shoes & Boots (S22:E14)
Jul 7, 2022
Larry's Country Diner with Twisted X CellStretch Shoes & Boots (S22:E14)

You won't want to miss the size of the Twisted X shoe we've brought with us on this episode of Larry's Country Diner. This Twisted X shoe was given to Cavender's as a commemorative shoe for their 1 millionth pair sold. We at Cavender's want to promote and preserve the Western lifestyle. We live this lifestyle and wear what we sell. Our customers depend on us to provide them with authentic durable products. That's why we've brought Twisted X CellStretch shoes and boots with us on Larry's Country Diner today.
Twisted X CellStretch
A new Twisted X product we have been carrying at Cavender's stores for 4 years now is their CellStretch shoes and boots. This new comfort cell technology compresses and redistributes the weight of your body evenly. With over 100 gel beads that absorb shock and conform to the shape of your foot, it is one of the most comfortable pieces of footwear you will ever wear. Twisted X has casual, western, and even outdoor styles to choose from. You can even shop Twisted X shoes and boots in men's, women's, and kids' styles all at Cavender's stores and online at Cavenders.com. We invite all of our Larry's Country Diner fans to come visit us at any Cavender's location and tell us you saw us on Larry's Country Diner. We'd love to meet each and every one of you.
BootDaddy Hoodie Promotion
Don't forget we also have our BootDaddy hoodie promotion going on in 4 of our Cavender's stores. Right now when you spend $50 you can get a BootDaddy hoodie for only $12 at our Omaha, Kansas City, Wichita, or Cavender's PFI locations.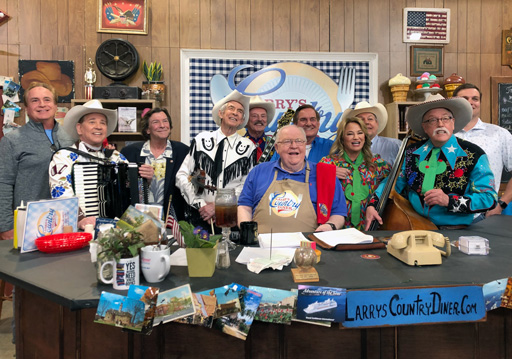 Performing Artist: Riders In The Sky Season 22 Ep. 14 original airing on 7/7/2022.