What to Pack for National Finals Rodeo 2022: Night and Day Looks
Nov 15, 2022
What to Pack for National Finals Rodeo 2022

The "Super Bowl of Rodeo" is back! National Finals Rodeo 2022 (NFR), organized by the Professional Rodeo Cowboy Association, is the most prestigious rodeo event in the United States. Everyone is gearing up to have a great time in Las Vegas this December. Before you pack your bags, be sure to plan your outfits accordingly. There's only one rule when it comes to NFR fashion: go big or go home!
How to dress for your day at National Finals Rodeo 2022
How you dress for NFR in the daytime will vary quite drastically from how you dress at night. That's because daytime looks are for casual outings, holiday gift shopping and sightseeing. Nighttime looks are when everyone goes all out with glitz and glam. The more bling, the better.
What to pack for daytime at National Finals Rodeo 2022
During the days you'll want to keep your look classic western with some comfortable but stylish staples. You'll stay busy running around, shopping and exploring Las Vegas so pack with that in mind. Here's what we recommend:
Jeans – Go for something comfortable. You'll probably be walking a lot during the day, so keep it NFR-stylish with some trendy flared options or colored jeans.
Tops – It may be Las Vegas, but it's still December where the average high reaches about 60 degrees. Go for layers in case it's colder than you expect. Aim for options you can mix and match like flowy blouses paired with a jacket or cute tanks with an Aztec cardigan.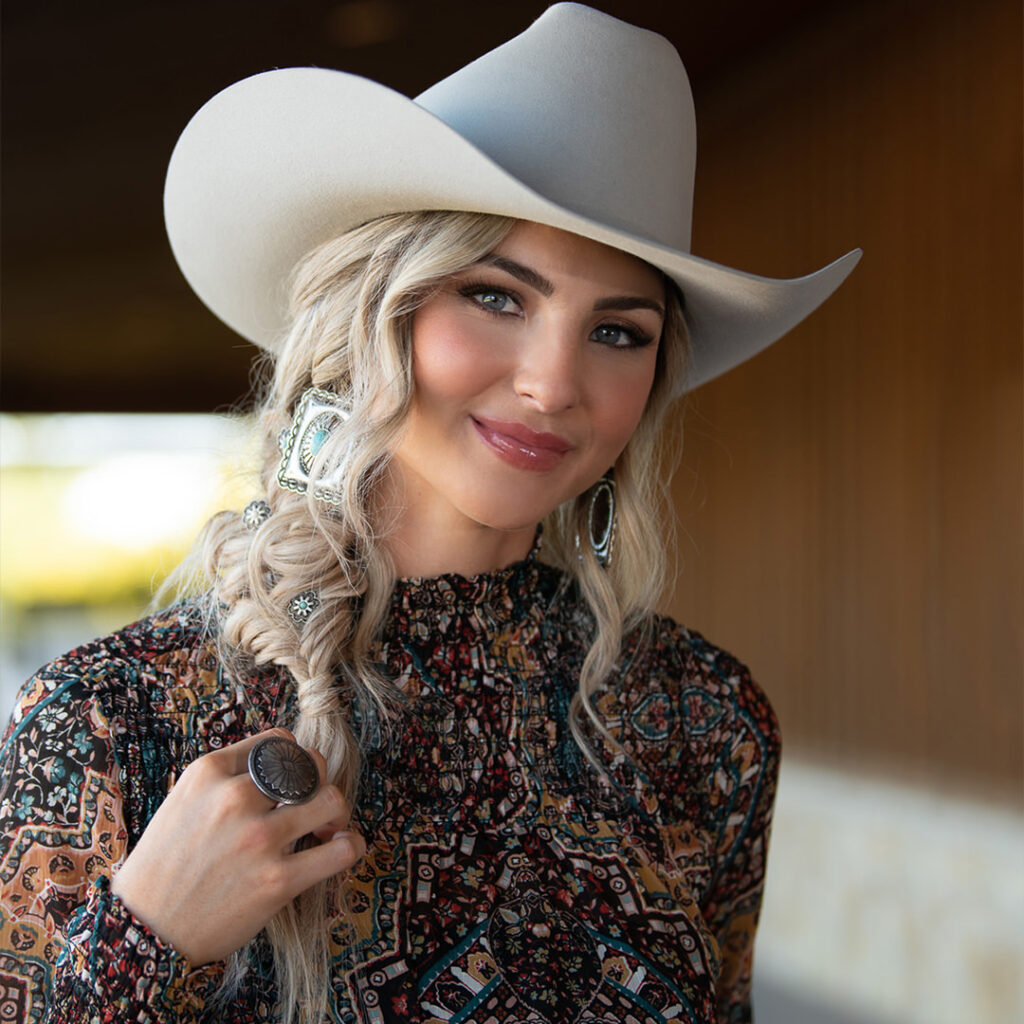 Accessories – Even if you're waiting for nighttime to go all out, that doesn't mean you can't accessorize! Adding a statement western necklace to a casual, comfy outfit instantly dresses it up. We also carry an assortment of cute handbags and belts to add some pizzazz to your day look. Don't forget sunglasses because that desert sun will be shining.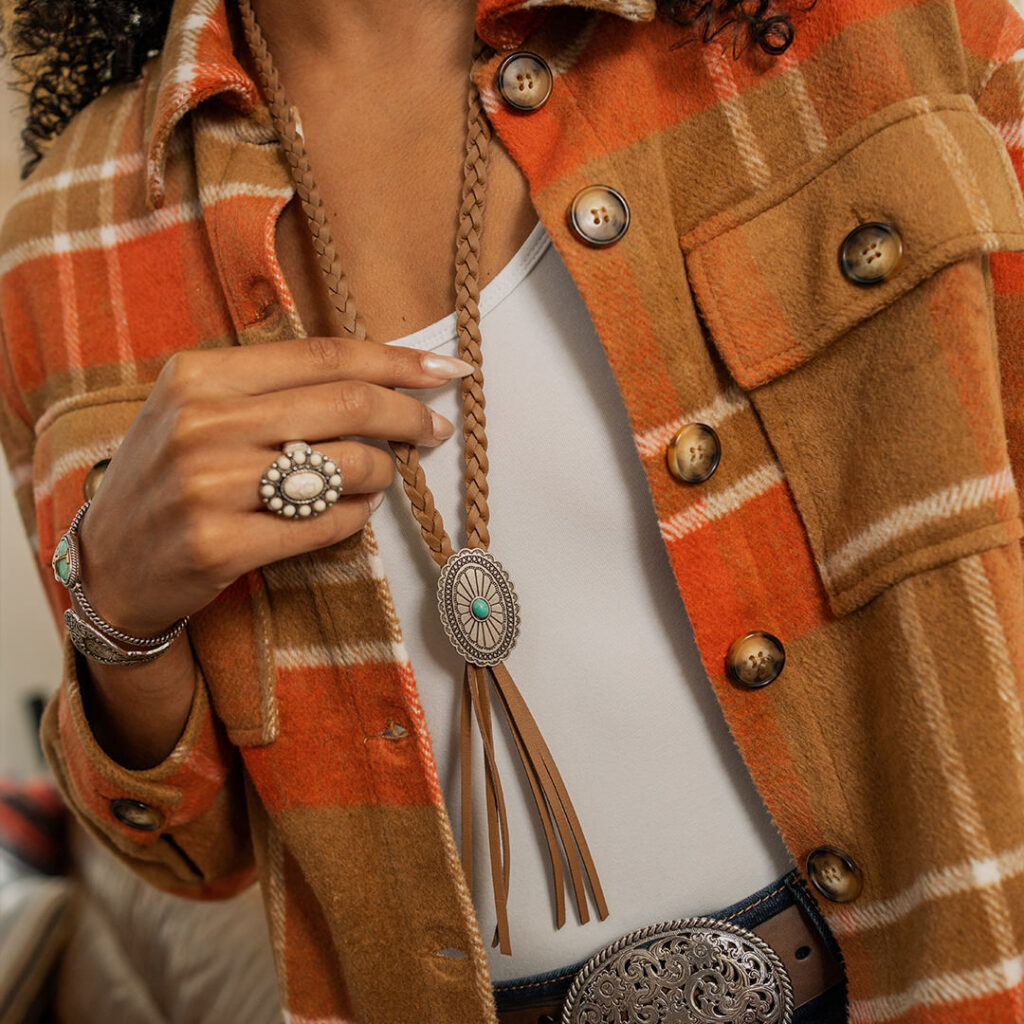 Boots/booties – Pick a comfortable boot or bootie that can be worn with multiple outfits to save yourself some luggage space. Comfort is key. Tip: wear your bigger boots on the plane so you don't have to waste room in your suitcase!
What to pack for nighttime at National Finals Rodeo 2022
This is what you came here to see. Everyone will be dressed to the nines in their best and trendiest western wear. Yes, you really came to see the competition, but the outfits are absolutely a bonus. Nighttime looks are all about the bling (the more rhinestones the better). Don't forget the fringe, leather, metallics, and tall boots. Just anything and everything over the top is nighttime attire. Here's what we recommend: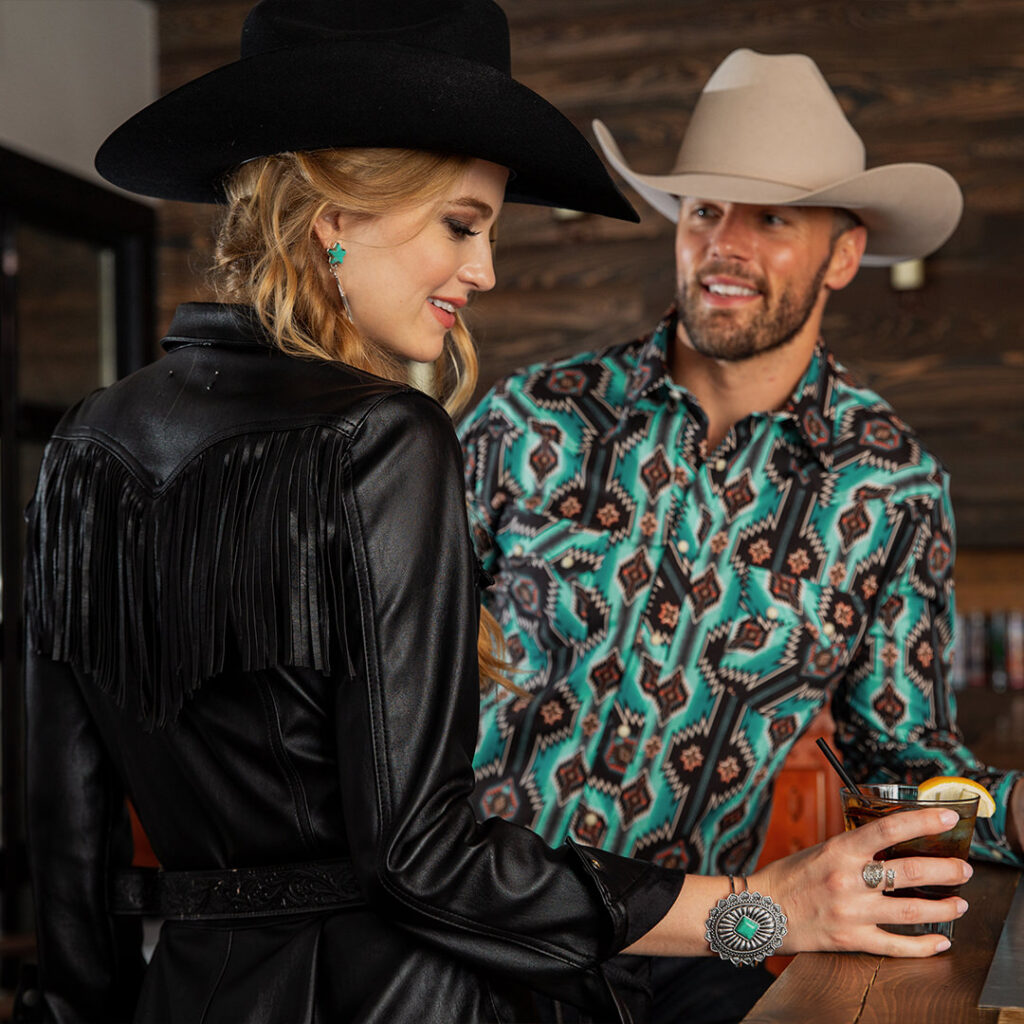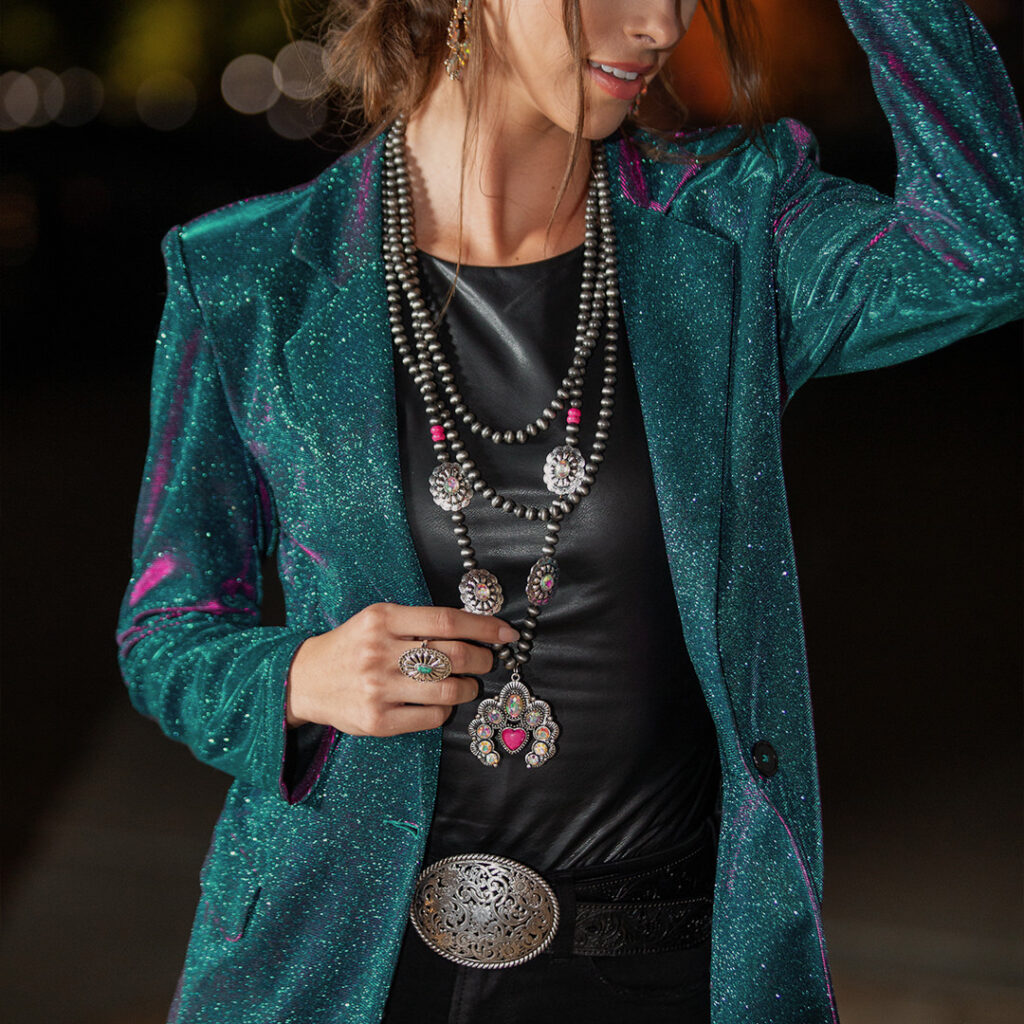 Accessories – What NFR outfit is complete without a western belt and some bold jewelry? Check out the selection of turquoise and sterling silver options for a classic but bold look. Insider tip – definitely browse our online selection of earrings for beautiful and unique pieces perfect for NFR and at a great price.
As you pack for National Finals Rodeo 2022 be sure to check out our NFR Collection before you go. Don't forget our gorgeous western luggage options if you find you could use an extra bag or two (we don't blame you). And while you're in Las Vegas, be sure to visit our booth at NFR. We're always happy to help you out if you find you forgot an item back home (or just want to do some holiday shopping!). Have a great time rocking your best western looks at National Finals Rodeo 2022.