8 Gift Ideas for the Person On Your List Who Has Everything
Dec 9, 2015
We all know one of them: those people who are impossible to shop for. They either have everything they need, or they beat you to the punch and buy what they want for themselves! We have good news, though. This is the year we gathered some gift ideas for to surprise and please even the trickiest person on your list. These are the items they never even knew they wanted!
1. As The Spur Stirs by Jacqueline Cavender $39.99


This brand new and beautiful cookbook by our very own Jacqueline Cavender is sure to be the gift that keeps on giving. The 272-page cookbook features recipes that Jacqueline has gathered over the years from her mother and mother-in-law's kitchens as well as from close friends and celebrity supporters including Grammy-award winner Celine Dion, First Lady Laura Bush, Pat Green, George Strait, and Dennis Quaid. Buy this cookbook and give to more than just one person: 100% of the net proceeds go towards the American Cancer Society and finding a cure for cystic fibrosis.
2. Ariat ATS Wide Square Toe Footbeds $19.95
Give someone these cushy orthotic Ariat inserts, and they will thank you later! These Ariat footbeds (available in wide square toe, square toe, and round toe) will bring spring into the step of any pair of new or old boots.
3. Case Pocket Knife


A simple pocket knife is one of the most useful and memorable gifts you can give. Everybody loves to be prepared, so this handy tool is a no-brainer. You might even want one of them for yourself!
4. Orion Cooler $369.00


Our newest arrival in coolers is your hunter's dream. With standard features like bottle openers, lights, camo colors, and high quality grips, an Orion cooler is the gift they didn't know they needed.
5. Bickmore Leather Care Travel Kit $9.00


Leather care should be important to any boot owner, and this travel kit makes pampering boots easy! Bick 1 leather cleaner, Bick 4 leather conditioner, a cleaning cloth, and a guide to proper leather care is just what the boot doctor ordered.
6. Throw Pillows $32.00 -$60.00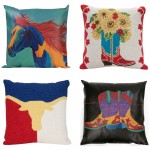 Pillows are like boots – you can never have too many! These bright and cozy pillows are sure to thrill the homemaker on your list.
7. Slippers $9.99 – $39.99


Warm and fuzzy house shoes are a little piece of luxury that many people wouldn't buy for themselves. That's what makes these slippers the perfect gift! These affordable slippers are available in adult and kid's sizes, so stock up for the whole family.
8. Equine Carriers Black Double Stacked Hat Carrier $89.99


There are two kinds of people in the world: people who don't wear cowboy hats and people who are obsessively concerned with the condition of their cowboy hats. Give your cowboy or cowgirl the peace of mind that their hat is safe during travel or storage with this protective hat carrier.
We hope this list makes your Christmas shopping a little bit easier this holiday season! Make sure to shop our Christmas Gift Guide for even more gift ideas from Cavender's.
Tell us: Do you have someone on your list that is tough to shop for? Which item would you pick for your own Christmas list?