Larry's Country Diner Celebrates Wrangler's 75th Anniversary (S22:E20)
Sep 29, 2022
Larry's Country Diner Celebrating Wrangler's 75th Anniversary (S22:E20)

We're Celebrating Wrangler's 75th Anniversary!
On this week's episode of Larry's Country Diner, Joe, Mike and Drew Cavender talk about the 47th Annual Tent Sale and Wrangler's 75th Anniversary! Joe and Mike discuss Wrangler's storied history and contributions to promoting and preserving the western lifestyle. They also talk about the iconic 13MWZ jean and how it came to be. Drew discusses our current promotion honoring Wrangler's 75th Anniversary, the Buy 1, Get 1 of equal or lesser value at 50% Off starting October 5th thru October 20th.
And don't forget, the Tent Sale ends October 09th! Be sure to stop by our PFI Cavender's location for great deals on a huge selection of items in the Tent!
We at Cavender's want to promote and preserve the Western lifestyle. We live this lifestyle and wear what we sell. Our customers can depend on us to provide them with authentic, durable products. This is why we're proud to partner with the folks from Wrangler and celebrate their 75th Anniversary!
Wrangler Cowboy Cut Rigid Indigo Original Fit Jeans
Wrangler® rigid Cowboy Cut® jeans are not only the official choice of ProRodeo competitors but also a closet staple for cowboys across the country. Made with heavyweight broken twill denim that's woven from sanforized cotton, the Wrangler® rigid Cowboy Cut® jeans are just the ticket for when you need a tough solution that can handle an honest day's work. Based on the iconic 13MWZ jean, our men's rigid Cowboy Cut® original fit jeans come with all the authentic features you know and trust, including our signature five-pocket styling, a neolite patch, and the classic 'W' stitching on the back pocket. After all, nothing beats an original.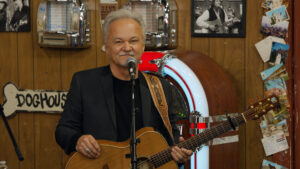 Performing Artist: Jimmy Fortune. Season 22 Ep 20 originally aired on 09/29/2022.