Cowboy Hat Etiquette
May 9, 2022
Cowboy Hat Etiquette

A long-time symbol of the American West, the cowboy hat represents our heritage. Using the proper cowboy hat etiquette while wearing your hat will help you be more of a gentleman as well as more respected by other cowboys and cowgirls. Hat etiquette actually dates back to medieval days. It could have been fatal if a knight forgot to remove his helmet or lift his visor to identify himself. Thankfully, the consequences for not removing your hat are less dire today. However, you'll still want to follow the etiquette rules below so you're not frowned upon.
Wearing Your Hat Indoors
When to wear your hat indoors is one of the more popular topics regarding cowboy hat etiquette. It is best to take your cowboy hat off if you are indoors while eating a meal, riding in an elevator, or attending church. Some cowboys will remove their hat while entering someone's home so as not to appear disrespectful. It is good to note that older generations may find it bad-mannered if you do not remove your cowboy hat for the entire time you are indoors. Now days most younger people won't mind if you are in a casual environment, but removing a hat indoors has been proper hat etiquette for decades.
When To Remove Your Hat
You'll want to make note of the following special occasions when you will always want to remove your cowboy hat:
During the National Anthem or Pledge of Allegiance
When the American flag passes by
During a prayer
During a wedding or a funeral
During a funeral procession
While shaking hands
Tipping Your Hat
Tipping your cowboy hat is another hat custom that started years ago. It is proper cowboy hat etiquette for a cowboy to tip his hat off his forehead while meeting a lady, saying "thank you," "goodbye," or "how do you do." Don't forget to tip your hat to a stranger if they thank you for a service. This could be as simple as helping them with driving directions or picking something up that they dropped.
When To Wear A Straw Or Felt Hat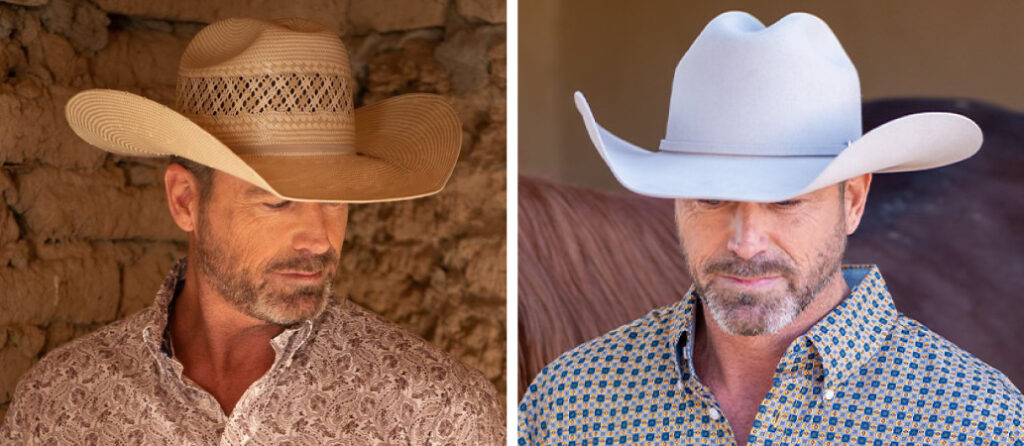 Wearing a straw or felt cowboy hat at the wrong time of year could make you seem less authentic to others living the western lifestyle. Straw cowboy hats are typically worn in warmer weather to help your head stay cool and protect yourself from the sun. When Springtime hits and the temperature rises it is usually ok to start wearing your straw hat. A good rule of thumb for cowboy hat etiquette is to wear your straw hat from Easter all the way through to Labor Day. Cowboys switch to felt hat season after Labor Day, but felt cowboy hats are also worn for formal occasions no matter the time of year. Depending on where you live and the temperature in your area, straw cowboy hats may be worn past Labor Day if it is too uncomfortable to wear a felt in the heat.
How To Treat Your Hat Properly
Cowboys say it's proper hat etiquette to treat your hat like a lady. It is best to always treat your cowboy hat with care and respect to keep it in great shape. Remember to place your hat upside down on its crown when you're not wearing it. This will keep your hat brim from flattening out over time. If a hat rack is available to hang your hat on, that's even better.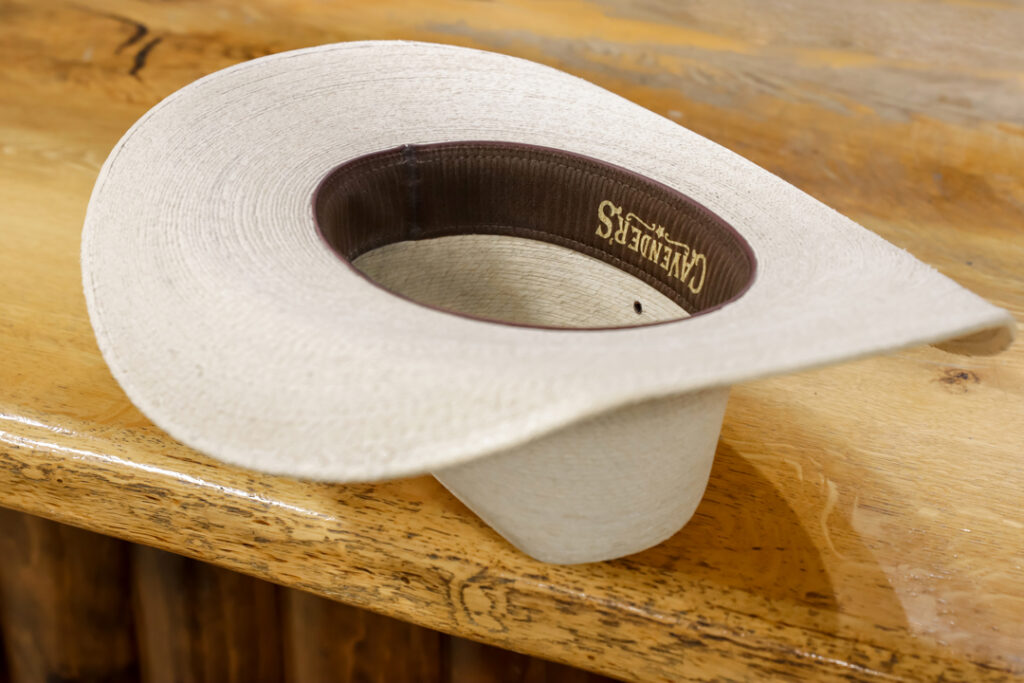 When holding your hat in your hand, make sure to hold it by the crown so that no one else can see the inside lining. If you're new to wearing a cowboy hat you'll want to be aware of how to not wear your hat backwards. You will definitely look silly and it's also bad luck! Some hats have a small ribbon on the back of the inside sweatband to mark the back of the hat. Certain cowboy hats have a buckle on their band and these should be worn on the left side. If not, you'll notice that the front of a cowboy hat is narrower than the back.
Essential Cowboy Hat Etiquette Tip
Now that you've read the ins and outs of cowboy hat etiquette, we have one last important tip to share with you: Never touch another cowboy's hat! Long known as bad luck, touching another cowboy's hat is a big no-no. A cowboy's hat is an extension of their personality. Plus, cowboy hats can be a big investment. Would you want someone stretching out your cowboy hat with their different head shape? As Lyle Lovett says in his 1996 country music hit, "So if it's her you want I don't care about that, you can have my girl but don't touch my hat."