COWGIRL 30 Under 30 Class of 2021
Feb 25, 2022
COWGIRL 30 Under 30 Class of 2021

We sat down with Taylor and Shelbi who were both inducted into COWGIRL's 30 Under 30 Class of 2021. These ladies both work for Justin Brands, Inc., which houses Justin Boots, Tony Lama Boots, Nocona Boots, and Chippewa Boots. Taylor is one of the Marketing Managers and Shelbi is part of the Product Development team. We had the opportunity to dive into their roles at Justin and learn about their experience as part of this prestigious group of women.
---
Cavender's: How did you feel when you found out you were going to be honored as part of the class of 2021?
Taylor: As someone who didn't grow up fully immersed in the western industry, I was not expecting to win this award at all! All of the ladies involved – the Class of 2020, the Class of 2021, the sponsors, the selection committee, and now the Class of 2022 – are absolute powerhouses in their respective fields, so I was and still am extremely honored to be recognized alongside a group of such accomplished women.
Shelbi: I was overwhelmed with so many emotions. I've wanted to be in this career since I was 12 years old and I've worked really hard to get here. Being selected as part of the Class of 2021 made it all worthwhile. I wake up every day thankful for this life, the opportunities, experiences, and connections I've made through this journey.
Cavender's: What does it mean to be part of the COWGIRL 30 Under 30 group of women?
Shelbi: First, it's an absolute honor to be selected alongside all of these incredible women. I'm extremely blessed and appreciative to be part of something that recognizes hard work and dedication in young cowgirls in the western industry.
Taylor: As cheesy as it sounds, it really is a sisterhood. There's an immediate bond between you and the 29 ladies who were inducted alongside, as well as the women in the classes before and behind you. As this program continues to grow and highlight more career-driven young women, think about the impact we can have on this industry 20 years from now.
Cavender's: What does being a cowgirl mean to you?
Taylor: If you had asked me this question when I was a kid, I would have said something like "a cowgirl is a woman who rides horses, tends to cattle, and competes in rodeos." My time in the western industry has taught me that a cowgirl is so much more than that. Cowgirls are hardworking, kind, determined, loyal, confident, strong-willed, humble, generous, and passionate. I truly believe that the world would be a better place if there was a little bit of cowgirl spirit sprinkled around!
Shelbi: To me, being a cowgirl doesn't necessarily mean you ride a horse every day. Being a cowgirl means so much more. A cowgirl is someone who works hard, doesn't give up on their dream, carries herself well, and respects others. I'm so lucky to work with and be friends with some of the best cowgirls in the industry.
Cavender's: You both have very different jobs at Justin. What does your day-to-day look like?
Shelbi: My day-to-day life is always different! One day I might be in meetings with our team, the next I could be focusing on sketches or looking at leathers. I enjoy how each day can be so different – it helps keep my creative juices flowing!
Taylor: Every day brings something different and that's one thing I love most about my job! There are days I'm stuck in meetings all day, but there are a lot of other fun projects I get to work on. For example, I attend a lot of events, give speeches, work with partners (retailers, media, sponsorships, etc.), and manage brand strategy. There are so many fun and changing aspects to this job that make every day an adventure!
Cavender's: What has been your most memorable experience while on the Justin team?
Taylor: We've gotten to do a lot of really cool things during our six years at Justin, so it's hard to pick just one memorable experience. For example, we gave a speech and danced in front of 15,000 Texas FFA students, helped launch the Reba by Justin collection at the Grand Ole Opry, have met some of the most well-known people in this industry, and have attended countless rodeos and concerts. I'm most proud of the team we have at Justin – we're a group of ordinary people doing our best to accomplish extraordinary things together.
Shelbi: There have been so many memorable experiences during my time at Justin, it's hard to choose just one! To me, it's the connections and people I have met along the way, from notable names in the western industry to celebrities. I work with some of the best people who have taught me everything I know and that means a lot to me. It's those experiences that keep me going every single day!
Cavender's: Do you have any advice for young women entering the western industry?
Shelbi: My advice is to make connections – whether it's connections through your job, at a rodeo, or people you meet at different events! It's extremely important because you never know who you will meet or who can help open doors for you along the way.
Taylor: Like Shelbi said, it's so important to make connections anywhere and everywhere! Always take time to ask questions and remember that you're never too old, experienced, or important to learn something new! No job or task is too small and taking on those not-so-fun tasks will go a long way.
Shelbi and Taylor are so excited to welcome the Class of 2022 at the Wrangler COWGIRL 30 Under 30 Empowered Gala on March 4th at the Hotel Drover. Congratulations to all these young ladies, we cannot wait to see what lies ahead for this incredible industry!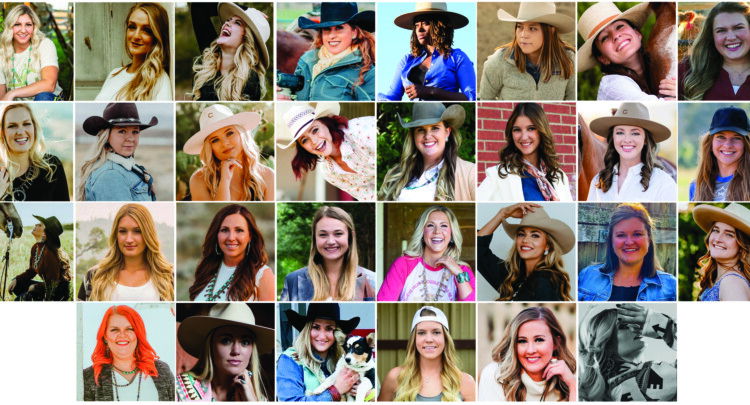 HISTORY
COWGIRL 30 Under 30 is a flagship program created by the editors and executives at Cowgirl Magazine. Now in its third year, Cowgirl has successfully promoted 90 young women from within the ranks of the Western Industry.
COWGIRL's mission is to seek out and publicly recognize young women who are making a name for themselves in the Western industry. Whether they be corporate executives, professional athletes, media professionals or working cowgirls, we aim to bring them to light to show
Just how vital these young women are to our industry. We also aim to create and grow a network of individuals who can serve as role models and mentors for the future leaders of our industry.
Past recipients include Alexis Bloomer, Hailey Kinsel, Katie Armstrong, Kirbe Schnoor, Quincy Freeman-Eldridge, Madison Outier, Amberly Snyder, Maddie & Tae, Katy Lucas, Shaley Ham, Jordan Jo Fabrizio, Ivy Conrado-Saebens, Jenna Link, Karlee Peterson,  Emily Miller-Beisel, Erin DeLong, Sierra Lewis, Janie Johnson,  Kallie Jo Bearden, Sarah Hendrix, Shelbi Tidwell, Taylor Morton
---
More about Shelbi and Taylor