Community Events for February 2022
Jan 20, 2022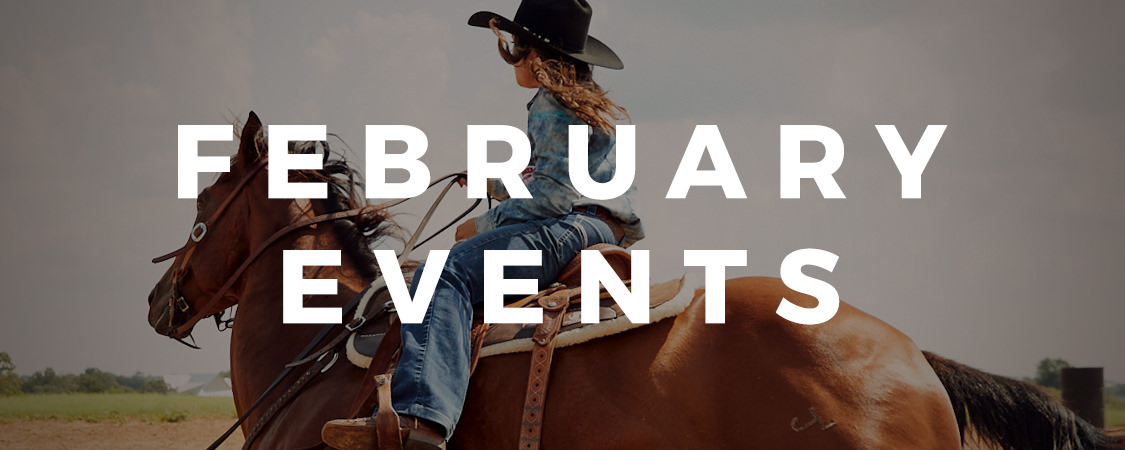 Fort Worth Stock Show & Rodeo | Fort Worth, TX | 1/14 – 2/5
Come visit the Cavender's booth located in the Amon G. Carter Exhibit Hall during the Fort Worth Stock Show & Rodeo!
This Thing is Legendary®! It's not just a slogan. It's why the Fort Worth Stock Show & Rodeo is the most authentic western lifestyle experience anywhere – since 1896. It's exciting, it's fun, it's 23 days of what makes Fort Worth the greatest city in Texas!
The rodeo action features the Best of the West Ranch Rodeo, Best of Mexico Celebración, Cowboys of Color Rodeo, Bulls Night Out Extreme Bull Riding and Texas Champions Challenge. The FWSSR PRORODEO Tournament tops it off in the world's most awesome venue for rodeo – Dickies Arena. They also have livestock and horse shows, kid-friendly activities and exhibits, live music, carnival midway, shopping, great food and much more. After experiencing it all, we bet you'll agree – This Thing IS Legendary!
---
Humble Rodeo & BBQ Cook Off | Humble, TX | 1/28 – 2/5
All proceeds from the Humble Rodeo & BBQ Cook-Off benefit the Humble ISD Education Foundation to help provide funds that support innovative projects, educators' classroom needs, campus priorities, action research and district infrastructural priorities. These funds support innovative programs that increase learning opportunities for students at all 45 schools in Humble ISD, with 2 more under construction.
---
Tuff Hedeman Bull Riding Tour | El Paso, TX | February 5, 2022
Four-time World Champion and ProRodeo Hall of Fame bull rider Tuff Hedeman is a living legend…and the most recognized cowboy in the world. Bull Riding is America's original extreme sport. He is a staunch supporter of the bull rider as a professional athlete. Hedeman's hands on approach has him coordinating every element of the events which brings action packed performances that keep fans and competitors on the edge of their seats.
---
San Antonio Stock Show & Rodeo | San Antonio, TX | 2/10 – 2/27
Since 1949, the San Antonio Stock Show & Rodeo has grown to become one of the largest, most prestigious single events in the city of San Antonio, with approximately 1.5 million visitors entering the grounds each year. Over 6,000 volunteers give countless hours to our organization each year.
You can come visit Cavender's in the newly revamped Expo Hall. Just enter through the main entrance and head straight!
---
Castle Rock Bull Riding and Bull Challenge | Castle Rock, CO | February 12, 2022
The Bulls are BACK! As one of Castle Rock's premier events, it features two great shows- a 2:00pm matinee and 7:00pm show. Presented by Barnyard Vet and Pet Supply and held at the Douglas County Fairgrounds indoor arena in Castle Rock, Colorado. More than 100 bulls will buck and be scored individually no matter if the rider stays on for the required 8 seconds. The owner of the winning bull will be awarded a championship Tres Rios silver buckle. Bull riders are also competing for a trophy buckle. Not to be missed, the mini bulls and young bull riders return to the event in hopes to earn a buckle of their own. Visitors will have an opportunity to gain educational information regarding bucking bulls, how they are cared for, the equipment used, training and much more! Shopping opportunities are endless with a wide variety of vendors. Entertainment vendors will include pony rides for the kids! Food concessions are available and parking is free.
---
Grand Opening- Cavender's Boot City Rosenberg | Rosenberg, TX | 2/18/2022
Come join us for the exciting Grand Opening of our new location in Rosenberg, Texas located along the Southwest Freeway/Interstate-69 in South West Houston area.
---
The American Rodeo | Fort Worth, TX | 2/20 – 3/6
The American is an annual legendary western weekend that is held each year at AT&T Stadium in Arlington, Texas and represents the richest single-day event in all of western sports.
Over the course of qualifier events across the country, competitors will all battle for what could be the biggest single-day paycheck of their careers. Owned by Teton Ridge, The American is a true open competition in format. The iconic event brings together top professional rodeo athletes and honest, hardworking cowboys and cowgirls in a winner-take-all showdown, meant to crown the finest talent the world has to offer.
In a landmark partnership between Teton Ridge and PBR (Professional Bull Riders), the weekend will additionally feature the 2022 PBR Global Cup USA.
---
Go Texan Day | Houston, TX | 2/25/2022
The anticipation for the Houston Livestock Show and Rodeo™ has been building, and now it is time to show your excitement. Participate in a city-wide celebration on Go Texan Day by putting your best cowboy boot forward and showing your Western pride.
Go Texan Day is the unofficial kickoff of the Houston Livestock Show and Rodeo, and we encourage the Houston community to celebrate Western heritage and raise awareness of Rodeo season. Wear your Western attire, such as jeans, cowboy boots, and cowboy hats in celebration! Make it a full day, and head downtown to enjoy Rodeo Roundup, see the Trail Rides as they make their way into Memorial Park, then, head over to the World's Championship Bar-B-Que Contest. It's a full day of activity on Go Texan Day!
---
Georgia National Rodeo | Perry, GA | 2/24 – 2/26
The Georgia National Rodeo is excited to be named as a Top20 Southeast Tourism Society Event. Don't miss all the exciting action happening this February in Perry, GA! The rodeo is held at the Georgia National Fairgrounds and Agricenter in Perry, GA and is officially sanctioned by the PRCA.
---
Bullriding Nationals | Springfield, MO | 2/25 – 2/26
The Award Winning Bullriding Nationals returns to the Ozark Empire Fairgrounds for two heart pounding nights of bullriding action featuring the best Bullriders of America.
---
2022 Tyler Heart Ball | Tyler, TX | 2/26/2022
The American Heart Association focuses on the cutting-edge of research, science, technology and more. That includes the events that allows us to gather and celebrate all that we have accomplished together! We are committed to ensuring that we are providing a best-in-class guest experience when you join us. This year, we will be featuring a new technology that will allow for a seamless event experience.
---
Laredo International Fair & Exposition | Laredo, TX | 2/28 – 3/3
The Laredo International Fair and Exposition, better known by its acronym L.I.F.E., is a non-profit organization founded in 1963. L.I.F.E.'s mission is to promote the areas of agriculture, horticulture, home economics, and the vocational/industrial trades.
L.I.F.E. is governed by a fifteen member volunteer Board of Directors.
---
Houston Livestock Show & Rodeo | Houston, TX | 2/28 – 3/20
The Houston Livestock Show and Rodeo™ promotes agriculture by hosting an annual, family-friendly experience that educates and entertains the public, supports Texas youth, showcases Western heritage and provides year-round educational support within the community.
Visit the Cavender's booth at the Houston Livestock Show & Rodeo Expo located at the NRG Center Booth D1088.