Community Events for January 2023
Dec 29, 2022
Community Events for January 2023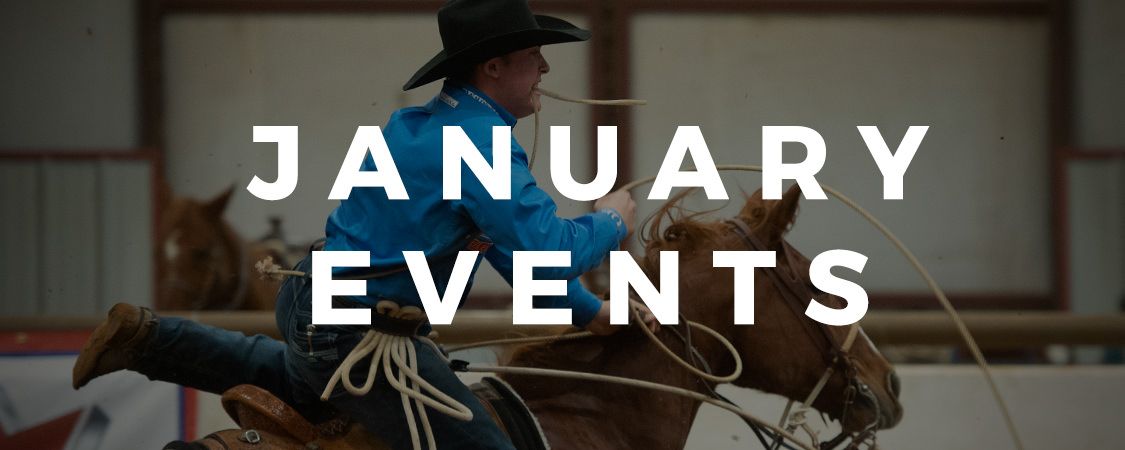 SandHills Stock Show & Rodeo | Odessa, TX | 1/4 – 1/14
Our 2020 stock show brought 614 entries from across Texas. There were Hereford heifers and steers, fine wool lambs, and market goats. The SandHills Steer Show is the only Junior Livestock Show in the state of Texas which is exclusively Hereford cattle. Likewise, our Lamb Show is unique in that we show only Fine Wool Lambs. Because of this, the quality of the steers and lambs shown in Odessa rivals any show in the state. In addition to the prizes and premiums awarded in our shows and our sale, participating students also compete for scholarships.
---
MidWinter Fair & ProRodeo | Lafayette, LA | 1/5 – 1/8
The 70th Annual MidWinter Fair and ProRodeo is back! Blackham Coliseum will play host to Harper and Morgan Rodeo and the FULL spectacular show you've come to expect! Laugh along with ProRodeo Clown Dusty Myers, prepare to be amazed by World Champion Trick Roper and Gunslinger Rider Kiesner, and back by popular demand will be the Buddy Barrel Pickup Races! New this year, come early and enjoy LIVE music at the beer garden. Don't miss the Greatest Show on Dirt!
---
Stampede at the Ike | West Monroe, LA | 1/21 – 1/22
Pete Carr Rodeo is proud to present Stampede At The Ike January 6th & 7th featuring Monroe's hometown NFR Announcer, Andy Stewart. Rodeo fans want to see high scoring rides and excitement at the rodeo, and that's exactly what Pete Carr's Pro Rodeo is all about. This years rodeo includes seven rodeo events: Bareback Riding, Saddle Bronc Riding, Steer Wrestling, Team Roping, Calf Roping, Barrel Racing and Bull Riding.
---
National Western Stock Show | Denver, CO | 1/7 – 1/22
The National Western Stock Show, presented by Centura Health, established in 1906, is the premier livestock, rodeo, and horse show in the nation, serving agricultural producers and consumers throughout the world. We are a 501(c)(3) charitable organization providing education in agriculture, including college and graduate-level scholarships in agriculture and veterinary medicine for practice in rural areas.
The National Western Stock Show, one of Colorado's preeminent tourist destinations, is held every January for 16 days. A nationally recognized western heritage and entertainment event, the stock show hosts one of the world's richest regular season professional rodeos, one of the country's largest horse shows, and Colorado's largest western trade show, attracting attendance numbers over 700,000 visitors each year.
Throughout this historic event, the National Western strives to strengthen American agriculture through enrichment programs and youth education in livestock, equestrian, farming, ranching, animal awareness, and appreciation. We celebrate western lifestyles, our communities, and provide life-long memories and family traditions.
---
International Finals Rodeo | Guthrie, OK | 1/12 – 1/15
Don't miss 4 days of action packed professional rodeo action! Watch cowboys and cowgirls compete for the title of World Champion in 8 different events. Fun for the entire family!
---
Fort Worth Stock Show & Rodeo | Fort Worth, TX | 1/13 – 2/4
This Thing is Legendary®! It's not just a slogan. It's why the Fort Worth Stock Show & Rodeo is the most authentic western lifestyle experience anywhere – since 1896. It's exciting, it's fun, it's 23 days of what makes Fort Worth the greatest city in Texas!
Our rodeo action features the Best of the West Ranch Rodeo, Best of Mexico Celebración, Cowboys of Color Rodeo, Bulls Night Out Extreme Bull Riding and Texas Champions Challenge. The FWSSR PRORODEO Tournament tops it off in the world's most awesome venue for rodeo – Dickies Arena.
We also have livestock and horse shows, kid-friendly activities and exhibits, live music, carnival midway, shopping, great food and much more. After experiencing it all, we bet you'll agree – This Thing IS Legendary!
---
PRCA Rodeo 2023 | Park City, KS | 1/20 – 1/21
It's wild! It's unpredictable! It's back! Park City Presents PRCA Championship Rodeo Friday, January 20 and Saturday, January 21 at Hartman Arena! This is the original extreme sport where top professional contestants from across the nation go head to head with award winning stock in seven head slammin', bone jammin', events as they make their run for the Wrangler National Finals in Las Vegas.
Friday, January 20 is Kid's Night, sponsored by 102.1 The Bull. Cowboys and cowgirls between 2-12 years get in free with a paid adult.
---
Shelby County Extreme Bulls | Columbiana, AL | 1/26 – 1/28
Professional bull riders from across the country roll into Columbiana to battle for the buckle! 35 of the top bull riders in the country will compete for thousands of dollars and a gold buckle! Each cowboy will attempt to ride their bull for 8 seconds. If they do, they will be awarded a score. The top 8 scoring cowboys will get on an additional bull in the short round and a go round champion will be crowned after the top scores are totaled!
Each night will start with an action packed light show filled with pyrotechnics as each bull rider is introduced into the arena. The bull riders will be paired with the best bucking bulls in the country as they try to conquer these beast for a heart pounding 8 seconds of action. Professional Rodeo Funny Man, Josh "Porkchop" Garrick, will also keep you entertained with funny jokes, tricks, acts, and sing a longs that will have the whole family laughing and crying.
Get ready Shelby County!!!! This is gonna be good.
---
Humble Rodeo and BBQ Cook-Off | Humble, TX | 1/27
All proceeds from the Humble Rodeo & BBQ Cook-Off benefit the Humble ISD Education Foundation to help provide funds that support innovative projects, educators' classroom needs, campus priorities, action research and district infrastructural priorities. These funds support innovative programs that increase learning opportunities for students at all 45 schools in Humble ISD, with 2 more under construction.
---
Rodeo of the Mid-South | Southaven, MS | 1/28
The Rodeo of the Mid-South is back! Bring the whole family as the Harper and Morgan Rodeo comes to town with the seven major professional rodeo events, celebrated rodeo clown Dusty Myers, and entertainer Dusti Crain-Dickerson.
---