Larry's Country Diner with Durango Flag Boots (S22:E13)
Jun 30, 2022
Larry's Country Diner with Durango Flag Boots (S22:E13)

July 4th is coming up and it's such a great time of year. We love honoring the flag, honoring the veterans, and respecting our great country. We even have 24 American flags in front of our Cavender's PFI location in Springfield, MO year round to honor the USA. Our Larry's Country Diner fans always come by the store and make comments about how impressive our flag display looks.
Being family owned and operated Cavender's has several core values. Respect is one of the values we hold highly. We know Cavender's customers and Larry's Country Diner fans are all patriotic. As we head towards the 4th of July we want to respect our country and are so lucky we live here.
Durango Flag Boots
Today we've brought Durango Rebel flag boots to share with our Larry's Country Diner fans. We offer these boots in 4 exclusive styles you can only find at Cavender's. We have Durango Texas flag boots, and our best seller is the Durango American flag boot. These are hard working comfortable boots that are extremely lightweight. Our Durango Rebel flag boots are available in men's, women's, and kids styles.
Visit Cavender's In Store Today
We also know there are a lot of families traveling to Branson, MO this time of year. If you're traveling through we invite you to look for the 24 American flags and stop by our Cavender's PFI location to visit us. We love hearing customers come in and tell us they saw us on Larry's Country Diner! We would love to hear from you at any of our 94 Cavender's stores as well.
BootDaddy Hoodie Promotion
Don't forget we also have our BootDaddy hoodie promotion going on in 4 of our Cavender's stores. Right now when you spend $50 you can get a BootDaddy hoodie for only $12 at our Omaha, Kansas City, Wichita, or Cavender's PFI locations.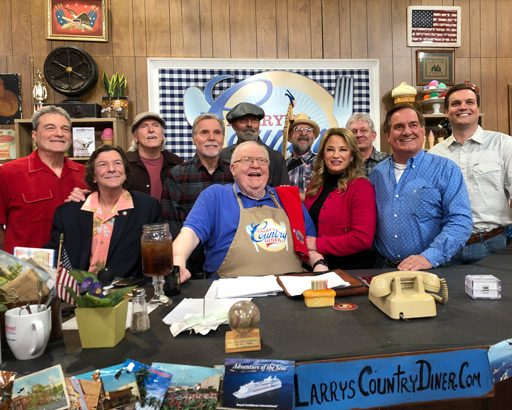 Performing Artist: EXILE Season 22 Ep. 13 original airing on 6/30/2022.