Larry's Country Diner with Hot Club of Cowtown (S22:E4)
Mar 24, 2022
Larry's Country Diner with Hot Club of Cowtown (S22:E4)

Ariat is such a big brand at Cavender's that we brought Trinity Grant from Ariat with us on this episode of Larry's Country Diner. Ariat has always been at the forefront of western boot design and comfort technology. Trinity is here today to talk about how they've added Ariat Sport Patriot boots to their immense boot lineup. We are proud to carry this wonderful collection at Cavender's.
The Ariat Sport Patriot Collection includes some of the best selling cowboy boots that Ariat makes. Some of our favorite things about these boots are the camouflage pattern on the shaft, the beautiful American flag on the front of the shaft, the non-skid rubber outsoles, and the comfort insoles. All of the Ariat Sport Patriot boots are perfect to wear everyday or when you need to dress up. Ariat even makes Sport Patriot cowgirl boots for women as well. Cavender's and Ariat appreciate that our Larry's Country Diner fans are very patriotic, love the American flag, live the American dream, and are honest people. Ariat is proud to support American veterans and gives back to them through various programs.
Besides the Ariat Sport Patriot Collection, we don't want our Larry's Country Diner fans to forget about our BootDaddy hoodie promotion. Now when you spend $50 in-store at Cavender's Wichita, Kansas City, Omaha, or PFI locations you will be able to purchase a BootDaddy hoodie in store for only $12. Also, don't forget to visit Cavender's PFI Western Store in Springfield, MO and "Ring the bell!" to receive a free bottle of BootDaddy BBQ sauce.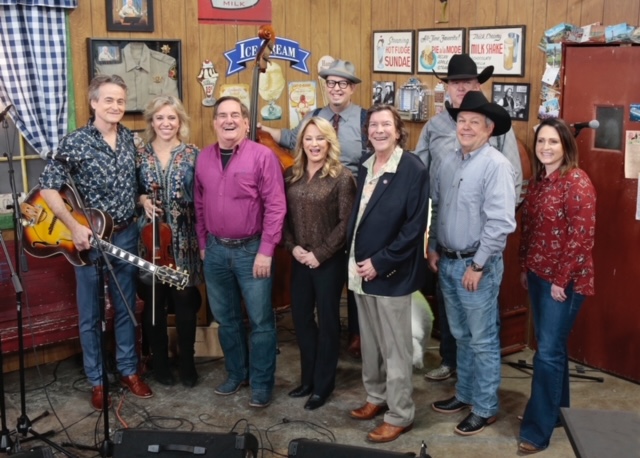 Performing Artist: Hot Club of Cowtown
Season 22 Ep. 4 original airing 3/24/2022