Mother's Day Recipes by Jacqueline Cavender
Apr 22, 2022
Sharing Family, Food, and Giving Hope

The perfect Mother's Day recipe can be found in Jacqueline Cavender's cookbook As the Spur Stirs. This cookbook was created to honor the legacy of Jacqueline's mother and her battle with cancer. It also brings loved ones together to share in the joy of cooking and spending quality time in the kitchen. You'll find hundreds of special recipes from family, friends and celebrities that tell a story of love, laughter, legacy, and life.
The As the Spur Stirs cookbook has enabled Jacqueline to feel close to her mom again by cooking the recipes she knew, loved, and passed down to her. To uphold this spirit, 100% of net proceeds from the sale of the cookbook go toward two causes near and dear to Jacqueline's heart – the American Cancer Society and Cystic Fibrosis.
Cystic Fibrosis touches the life of Jacqueline's daughter's best friend, Maci Drewry. Witnessing the unwavering determination of affected families to find a cure, despite the financial burden, and non-existent government funding for CF research was eye-opening.  The American Cancer Society is the nation's largest private non-profit investor in cancer research. By learning of how many lives are affected by these diseases, Cavender was inspired to help spur funding.
As the Spur Stirs combines all the ingredients Jacqueline is passionate about – her faith, beloved family, and friends, the western way of life, food, and giving back. "Thankfully, through this journey I discovered that six degrees of separation is a reality. Collecting the recipes meant an opportunity to discover a common denominator that binds us all together," says Jacqueline Cavender.
The Full List of Celebrity Contributors Includes: Trace Adkins, Joshua Beckett, Wade Bowen, Laura Bush, Andre Carthen, Andrew Cashner, Bryan Caswell, Davis Cleveland, Austin Coleman, Celine Dion, Casey and Melinda Donahew, Lin and Joy Elliott, Dean Fearing, Abi Ferrin, Kevin Fowler, Amy Grant, Don Graham, Pat Green, Roger Staubach, Helen Hamilton, Tyler Hammond, Tuff Hedeman, Charles Holley, Kathy Ireland, Taylor Johnson, John Lackey, Neal McCoy, Ty Murray, Kyle Park, Margot Perot, Rick and Anita Perry, Duane Propes, Dennis and Kimberly Quaid, Michel Richard, Miss Kay Robertson, Randy Rogers, Nolan Ryan, Victoria Shaw, Ricky Stenhouse Jr., George Strait, Randy Watson, Marissa Wayne in honor of her father John Wayne and Franz Weber
This Mother's Day, we hope you'll share in the joy these dishes bring.  Keep reading for some recipes that are quick, easy, and delicious. Enjoy!
Cavender Quiche – page 47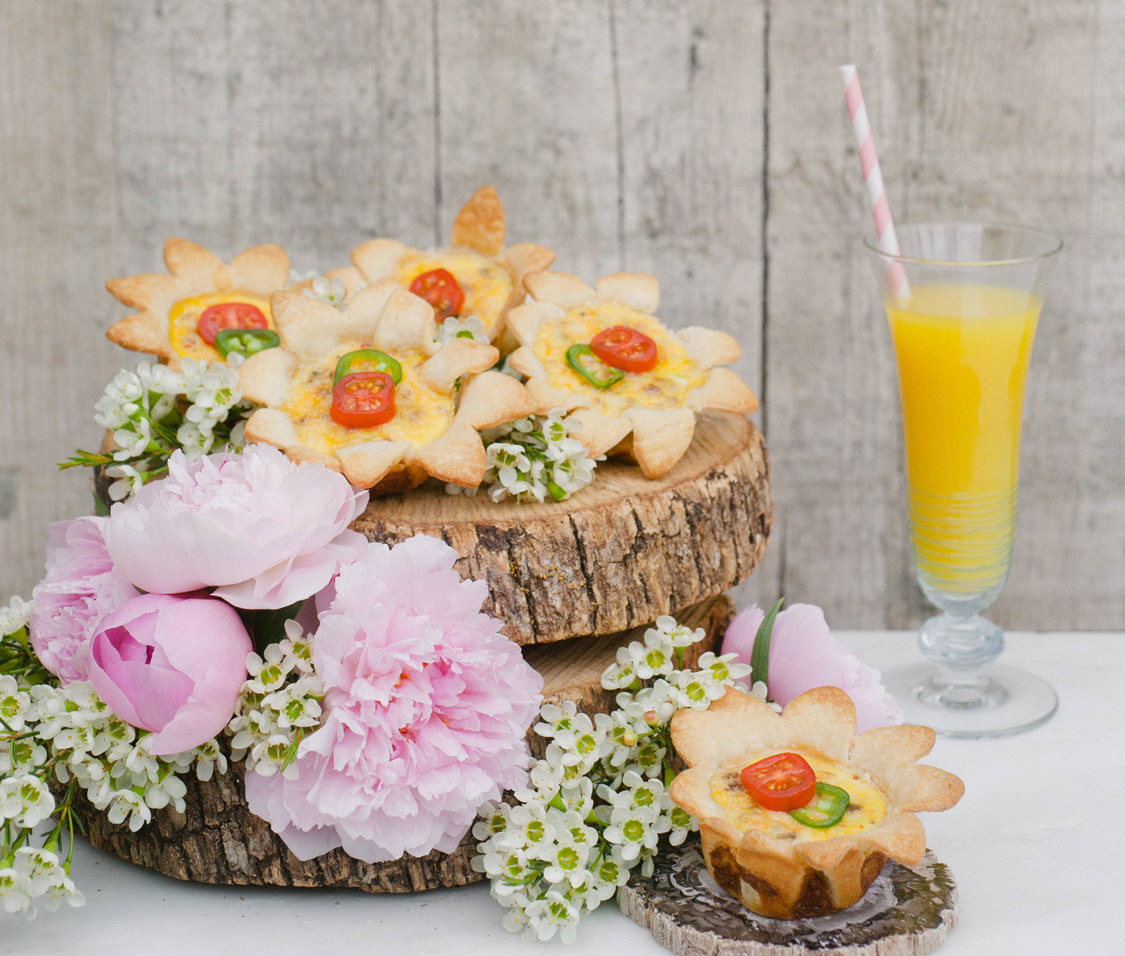 1-pound hot bulk sausage
15 eggs
½ cup all-purpose flour
1 teaspoon baking powder
8 ounces shredded Cheddar cheese
8 ounces shredded Monterrey Jack cheese
2 cups cottage cheese
1- 7 ounce can of chopped green chiles
2 jalapeño chiles, chopped
Brown the sausage in a skillet over medium heat, stirring until crumbly; drain.
Whisk the eggs in a large bowl.
Whisk in the flour and baking powder.
Stir in the Cheddar cheese, Monterey Jack cheese, cottage cheese, green chiles and jalapeño chiles.
Pour into a greased 9×13 baking dish.
Bake at 350 degrees for 45 minutes or until a knife inserted in the center comes clean.
Cut into squares and serve with sour cream and chopped green onions on the side.
---
Mini Cavender Quiche Variation – page 47
Cavender Quiche recipe
8 refrigerator pie pastries
24 cherry tomato slices
24 jalapeño chile slices
Line 24 muffin cups with baking parchment liners.
Unroll the pie pastries on a lightly floured surface.
Cut 24 large flowers from the pastry using a flower shaped cookie cutter.
Fit the pastry into the muffin cups.
Prepare the Cavender Quiche filling.
Pour equal portions of the filling into the cups.
Top each with a tomato slice and jalapeño chile slice.
Bake at 400 degrees for 20 minutes.
Remove the parchment liners and serve.
---
Avocado Chicken Salad – page 74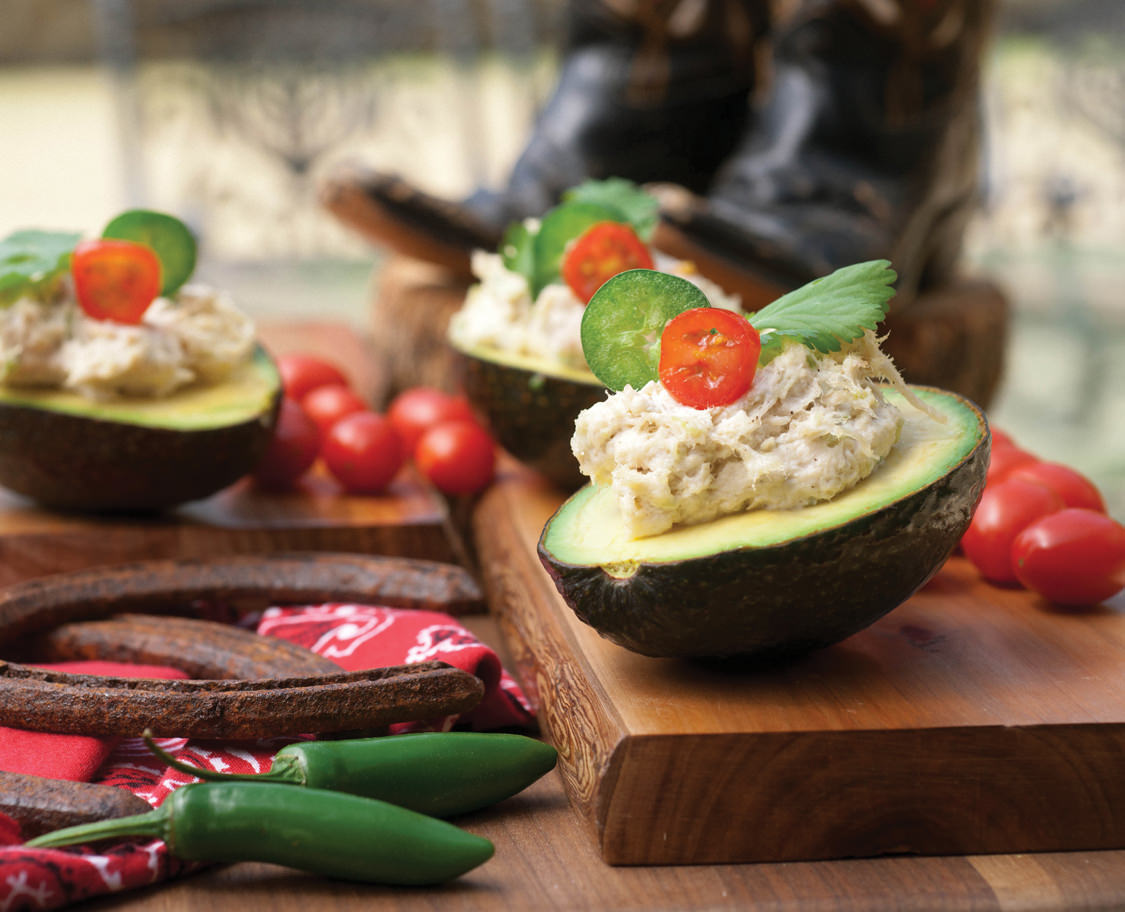 2 cups shredded chicken
½ teaspoon garlic powder
½ teaspoon salt
½ teaspoon pepper
2 teaspoons lime juice
1 teaspoon chopped fresh cilantro
¼ cup grapeseed oil Vegenaise
¼ cup plain Greek yogurt
1 avocado
Combine the chicken, garlic powder, salt, pepper, lime juice, cilantro, grapeseed oil, Vegenaise and yogurt in a bowl and mix well.
Cut the avocado in half lengthwise and remove the pit.
Mound the chicken salad equally in the avocado halves and garnish each with a slice of jalapeno, half the cherry tomato and cilantro leaf.
---
Grandmother's Peanut Butter Cookies – page 210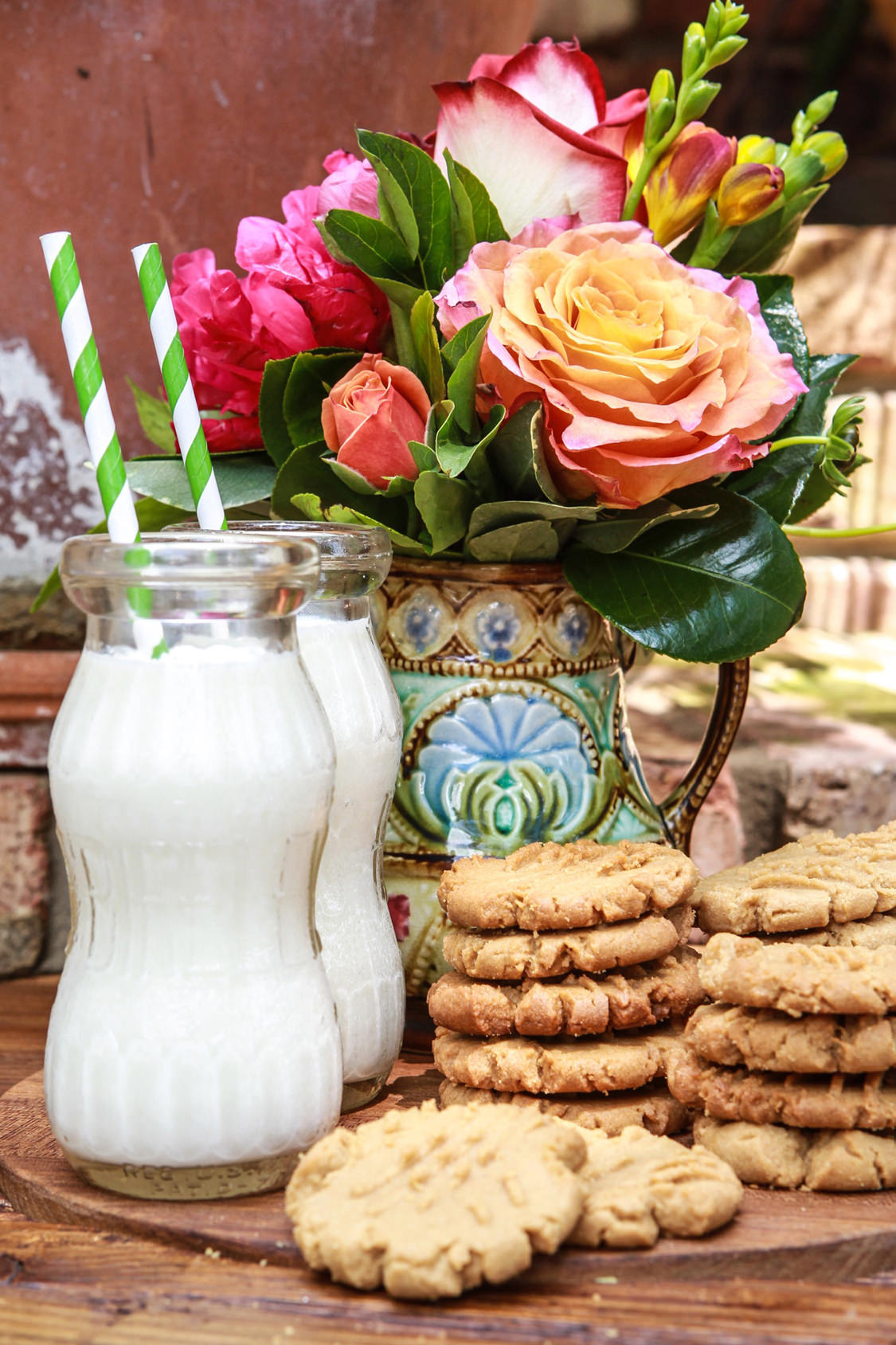 3 cups all-purpose flour
1 teaspoon baking soda
1 teaspoon baking powder
1 cup (2 sticks) butter, melted
1 cup granulated sugar
1 cup packed brown sugar
2 cups peanut butter
2 eggs
2 teaspoons vanilla extract
Sift the flour, baking soda and baking powder together.
Combine the melted butter, granulated sugar, and brown sugar in a large bowl and mix well. Add the peanut butter, eggs and vanilla and mix well. Add the dry ingredients gradually and mix well.
Shape the dough into 1-inch balls and place on a lightly greased cookie sheet. Flatten with a fork, making a crisscross pattern.
Bake at 350 degrees for 10 minutes or until lightly browned. Cool on the cookie sheet for 2 minutes. Remove to a wire rack to cool completely.
Makes 4 dozen.
---
Grandmother's Chocolate Sheet Cake – page 187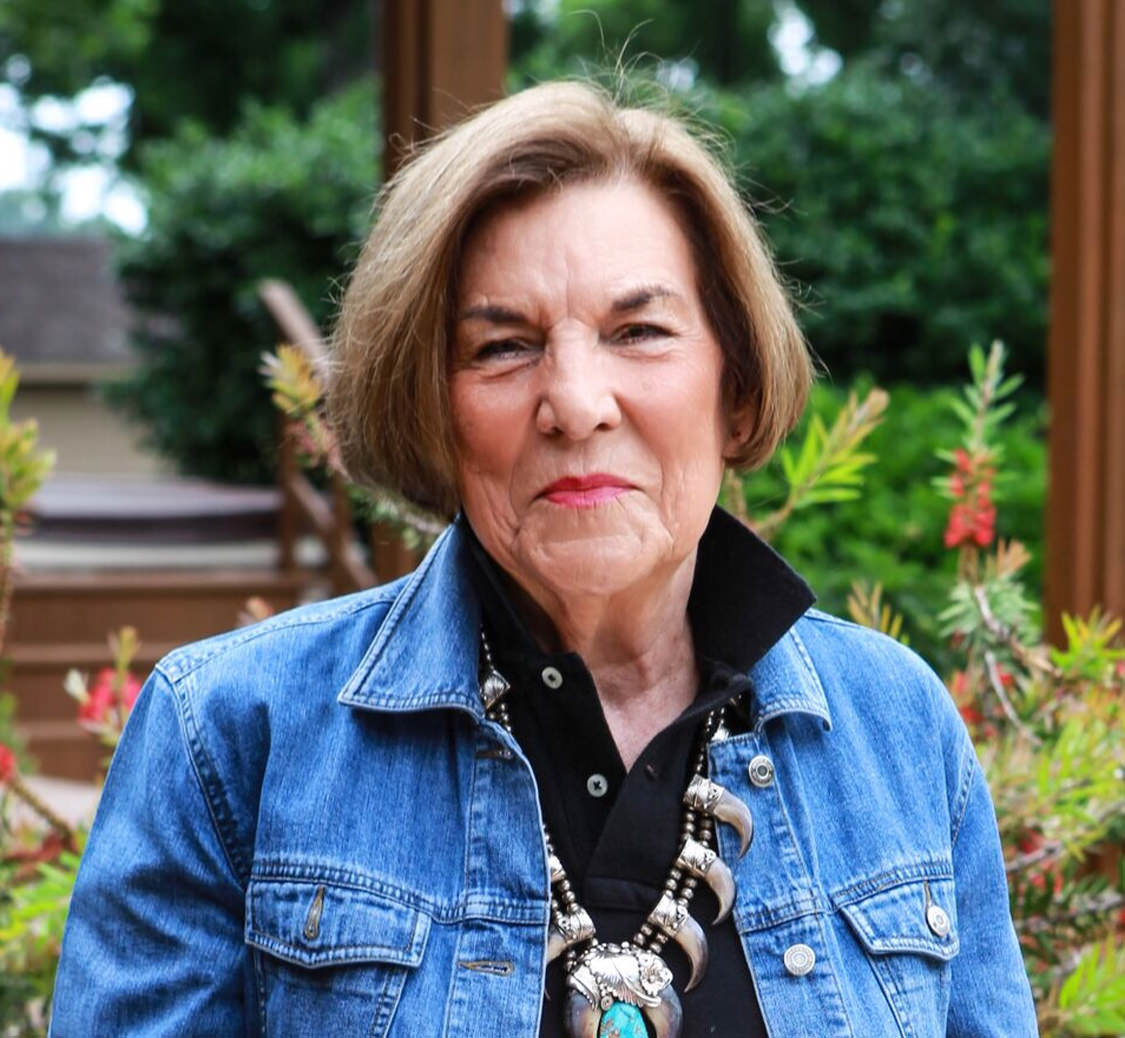 Patricia Cavender
2 cups sugar
2 cups all-purpose flour
½ teaspoon salt
½ cup (1 stick) butter
½ cup shortening
1 cup water
¼ cup baking cocoa
2 eggs
1 teaspoon baking soda
½ cup buttermilk
1 teaspoon vanilla extract
½ cup (1 stick) butter
¼ cup baking cocoa
6 tablespoons milk
1 teaspoon vanilla extract
1 (1 pound) package confectioners' sugar
1 ½ cup pecans, chopped
Combine the sugar, flour, and salt in a large bowl.
Bring ½ cup butter, shortening, water and ¼ cup baking cocoa to a boil in a saucepan, stirring frequently.
Add to the dry ingredients and mix well.
Beat the eggs, baking soda, buttermilk, and 1 teaspoon vanilla in a bowl. Beat into the flour mixture.
Pour into a greased and floured 9×13 inch baking pan.
Bake at 350 degrees for 25 minutes or until the cake tests done.
Melt ½ cup butter in a saucepan. Stir in ¼ cup baking cocoa, milk, 1 teaspoon vanilla, and confectioners' sugar.
Cook until warm and smooth, stirring frequently. Do not boil.
Stir in the pecans. Pour immediately over the cake.
Let cool completely before serving then enjoy!
---
What better to show your love and appreciation for someone than a home cooked meal? These dishes make for some simple, everyday, cowboy recipes or a Mother's Day brunch, whether you're cooking for two or for twenty. We hope y'all get to make some fun memories in the kitchen this year and encourage you to give a gift that can be passed down for generations. For some additional inspiration we've got lots of other great gift ideas for your Western Mom over in our Mother's Day Gift Guide.
These recipes are timeless, and they support two great causes.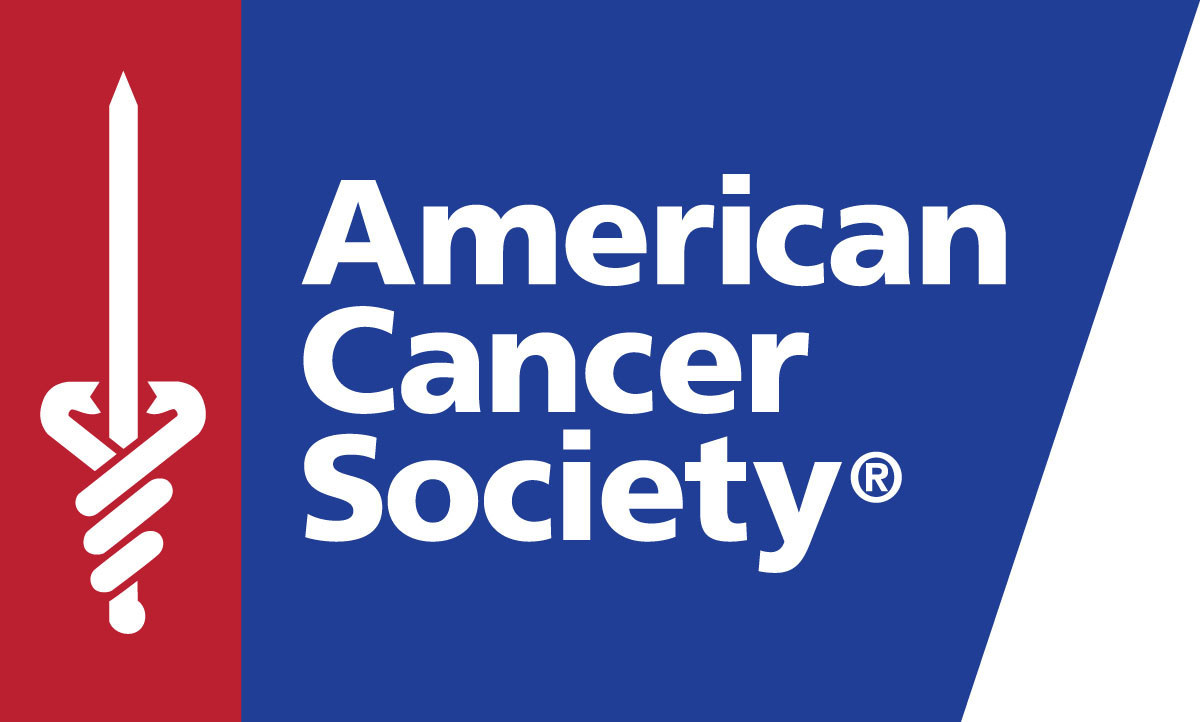 The American Cancer Society is the nation's largest private, nonprofit investor in cancer research. Since 1946, the American Cancer Society has invested more than $3.8 billion in research to help understand cancer's causes, determine how best to prevent it, and discover new ways to cure it. If you would like to donate, you can do that here.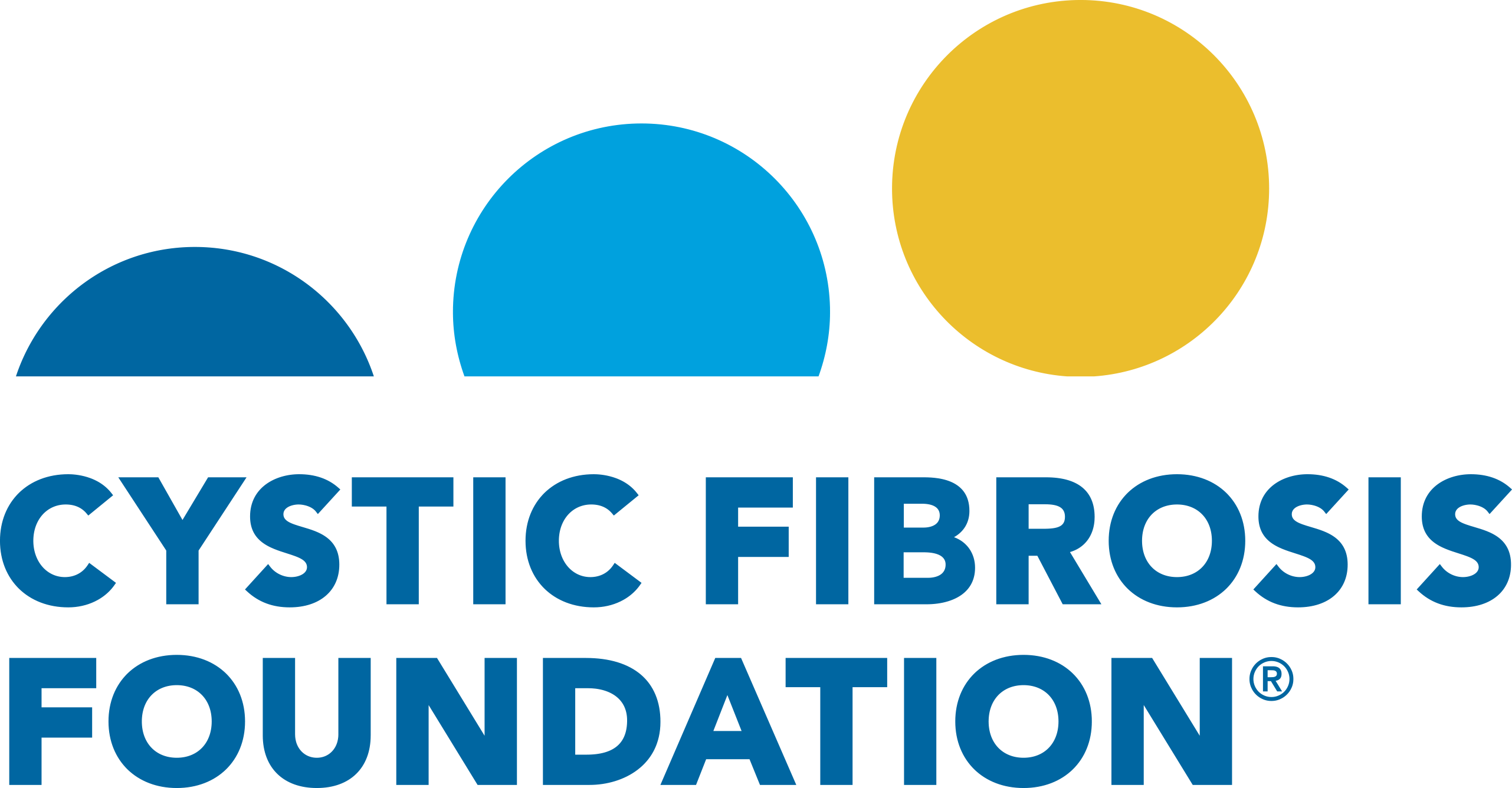 The Cystic Fibrosis Foundation is the world's leader in the search for a cure for cystic fibrosis (CF), a life-threatening genetic disease that affects the lungs and digestive systems of approximately 30,000 children in the US and 70,000 people worldwide. If you would like to donate, you can do that here.