The Cowgirl 30 Under 30 Sisterhood
Mar 6, 2023
The Cowgirl 30 Under 30 Sisterhood

When you bring Western heritage and tradition together, and combine that with lot of cowgirl confidence, you get a legendary group of ladies. They have created a legacy in and of its own – the COWGIRL Magazine 30 Under 30 sisterhood.
The mission of COWGIRL Magazine 30 Under 30 is to publicly recognize young women who are making a name for themselves within the Western industry. It is a platform that strives to create a network of individuals who can serve as role models and mentors for the future leaders of our industry.
I was fortunate enough to be nominated as a member of the COWGIRL 30 under 30 Class of 2022. I'm excited to share my story on what a truly amazing experience and opportunity it was and continues to be.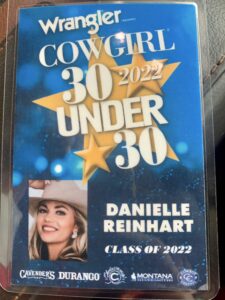 How it Started
I vividly remember preparing my application, re-writing & editing numerous times. I think the total set of versions capped off at seven. I finally pressed send, crossed my fingers and toes, said a prayer, and reflected on the sisterhood of ladies nominated before me.
I define a cowgirl as someone that is unique. She builds up others and promotes a community of strength and confidence. To me, a cowgirl isn't a word, but a way of life. It is a title earned and upheld through your actions. Being a cowgirl is a platform not too tall for anyone to reach and from where you don't look down on others. A cowgirl is a badge of honor you wear proudly. To be selected and become part of a sisterhood that promotes and celebrates what it means to be a cowgirl provides a platform for those women in the Western industry to shine and share their story. It was an unreal opportunity. The generations before me inspired my own journey. This opportunity to inspire generations after me to pursue their voice and shine a light on the cowgirl way, was a goal of mine regardless of the outcome.
I celebrated with Mexican food, frozen yogurt and chocolate chip cookies on the Monday night I received the email congratulating and welcoming me as part of the COWGIRL 30 Under 30 Class of 2022. If you know me, that is a standard celebration plan, with a heavy emphasis on my sweet tooth! My excitement around the nomination continued to buzz for months. With the great powers of social media, I was able to get to know my 2022 sisterhood classmates – from entrepreneurs and musicians, to key agricultural and Western horsewoman advocates. Learning more about my peers and their story was one of my highlights leading up to the event and knowing I was going get to meet them in person at the COWGIRL 30 Under 30 Gala in Fort Worth was the icing on the cake!
The Family Connection
"It takes a village," literally. I don't know about you, but I know I have not succeeded this far in life without the support from my family, friends and key role models and mentors. Learning how to drive, getting through college, later developing, and growing in my professional career – my family and friends encouraged me to grow, learn and develop my passions in the Western industry. Without their support, tough love, words of wisdom and encouragement, I wouldn't be where I am today.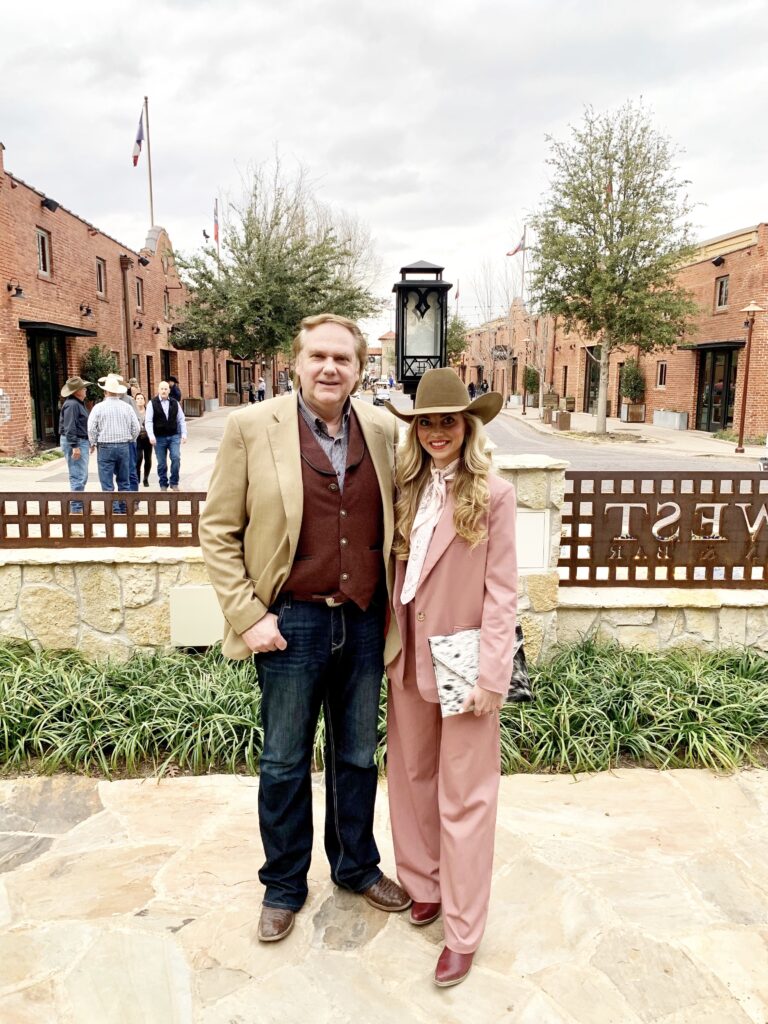 One key value of the COWGIRL Magazine 30 Under 30 Gala and program – and a common tie with the event sponsors – was the importance they place on family. As a recipient, you are encouraged to invite your family and friends to the Gala event to celebrate your induction into your COWGIRL Magazine 30 Under 30 class.
To be able to celebrate a moment and platform like COWGIRL Magazine 30 Under 30 with your team of family and friends alike, is truly special. My family and friends all played an integral role in my successes and celebrating that as a team was a memory I will never forget. Celebrating their contributions to my journey was just as important to me as the nomination itself.
Originally being from Calgary, Alberta, Canada, I was thrilled to share the news with my family and start planning their trip to Texas to celebrate this event. My Dad was able fly down and join us for the weekend. He had a tall task to quickly learn how take "outfit pics" in the mirror, per request from my mom and sisters. They insisted on approval and coordination of all his looks throughout the weekend. Being separated by many miles was not going to stop them from having their say! He also quickly learned how to host countless FaceTime sessions with my mom and sisters to share the live "play by play" at the COWGIRL Magazine 30 Under 30 Gala and events throughout the weekend. As I write this, my dad probably could have gone viral on TikTok for his hilarious and grand attempts at being a fashion influencer, stage dad and technology guru!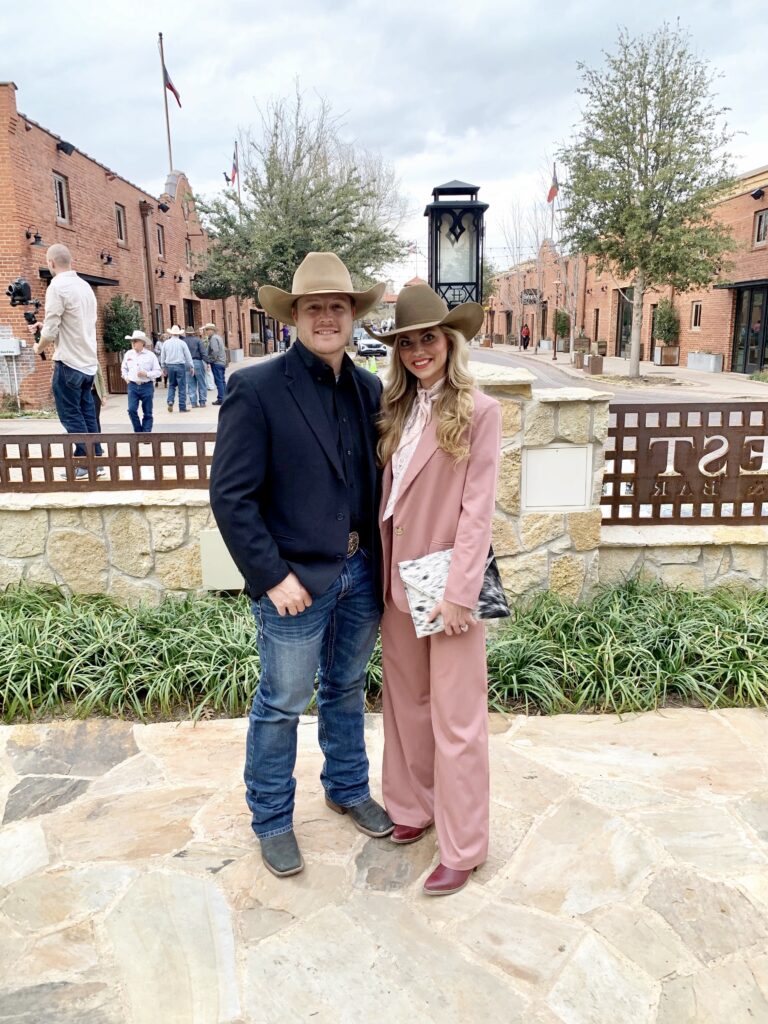 Having both my husband and Dad, the two key leading men in my life, celebrate with me was beyond special. Not only am I grateful that the importance behind including them in this celebration was welcomed with open arms but being able to see my fellow peers share that same special moment with their friends & family was priceless.
The Cowgirl Magazine 30 Under 30 Event
The COWGIRL Magazine 30 Under 30 Gala, and events surrounding the 30 under 30 class were legendary. We had a sponsored brunch with a meet and greet to kick off our weekend. What an opportunity to share our story and create social content with the amazing event sponsors, shop at the Fort Worth Stockyards, and above all, spend time getting to know my COWGIRL Magazine 30 Under 30 2022 peers!
The official COWGIRL Magazine 30 Under 30 Inductee Gala was held at the Hotel Drover (if you have never been, add it to your bucket list – it is a must-see travel spot)! The Gala provided a delicious dinner, live music, and a keynote speaker. Also, coverage by The Cowboy Channel, introductions to alumni, an onsite photographer and more. And I mean more. I took approximately 1,000 photos and still don't think I captured everything! They really did make us honorees and our families feel truly special.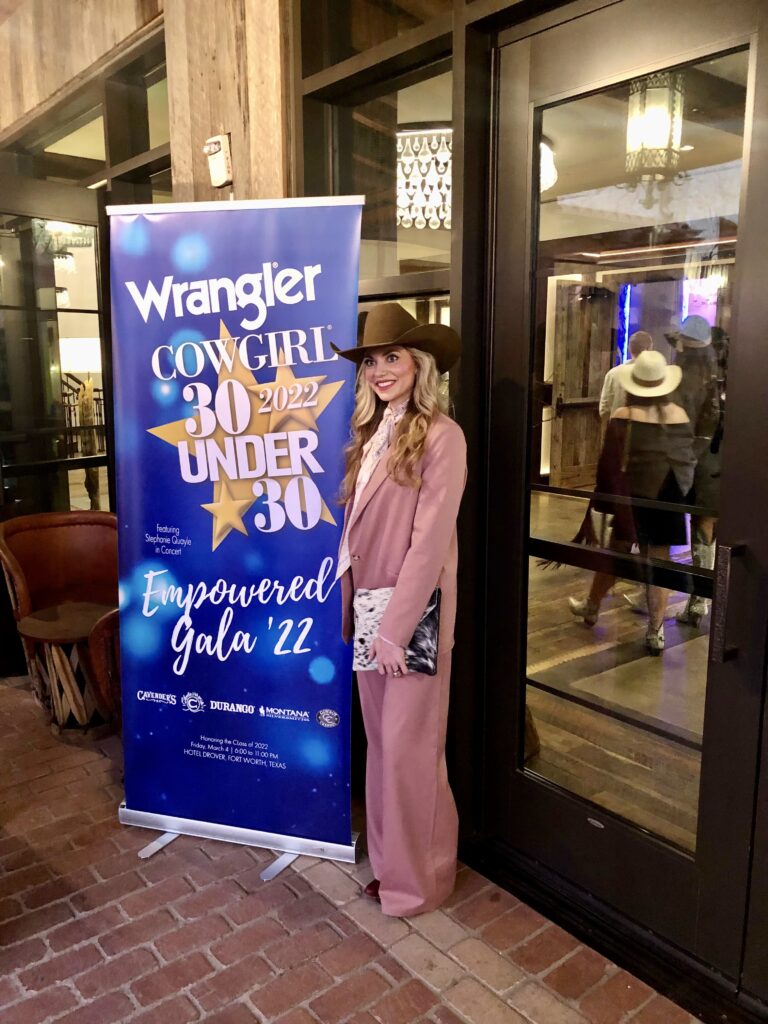 While there was an overwhelming buzz and excitement throughout the evening, I couldn't help but be drawn to the genuine comradery and passion of my classmates and their stories. Each 2022 inductee had the opportunity to share their own many thanks and shine a light on their own journey at the event. Talk about inspirational! The strength and confidence behind the women in my 2022 class, and their passion for the Western way of life, was incredible to see. All coming from different walks of life but able to share that common thread of passion behind the traditions, values and history of the cowgirl way of life was beyond inspiring and a memory I will cherish & look forward to sharing for years to come.
The Sisterhood, History, & The Cavender's Tradition
The COWGIRL Magazine 30 Under 30 Program & Gala is supported by some of the most iconic and genuine sponsors in the Western industry who value the importance behind the Western way of life.
Cavender's has been built on tradition, authenticity, and the fundamental value of the brand "This is How We Live." Cavender's "This is How We Live" branding is more than the legacy behind bringing legendary Western style and fashion to the community. It is about recognizing and continuing to promote the cowgirl and cowboy way of life and western traditions and history for generations to come.
Sponsor and brand partnerships that support the mission to empower others builds the legacy of the COWGIRL Magazine 30 Under 30 sisterhood and promotes the Western industry. They will drive generations of education and inspiration to come. Not only has Cavender's continued support of the COWGIRL Magazine 30 Under 30 Gala and program, but they shine a light on their consistent pursuit of sharing the importance behind the Western way of life. Through supporting each cowgirl, their journey, values, and traditions. With Cavender's brand and mission, I couldn't think of a more fitting partnership that aligns with the COWGIRL Magazine 30 Under 30 platform.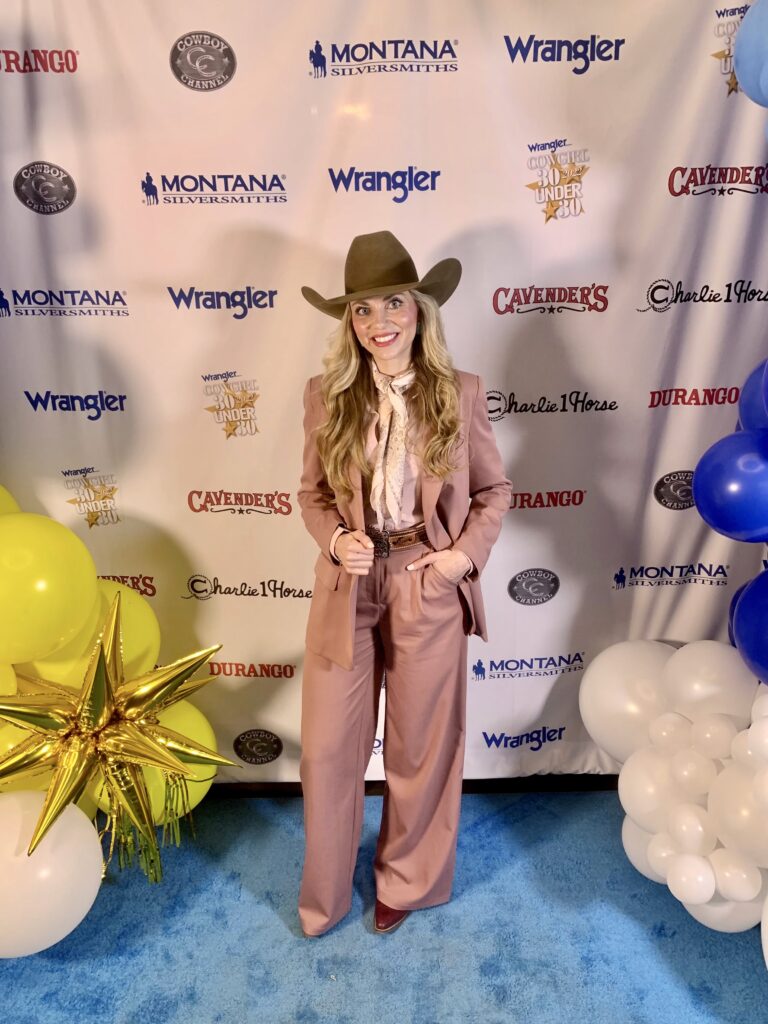 As a COWGIRL Magazine 30 Under 30 alumni, I am beyond grateful for all the generous sponsors that support, value, and contribute to the growth of the COWGIRL Magazine 30 Under 30 program. So, let's share a tip of the hat to those that support the next generation of legendary ladies and who promote the value of "This is How We Live" – shining a light on the cowgirl way, and creating a legacy of generations of empowered women for years to come.
The Next Adventure
I am excited to announce that I have partnered with Cavender's to bring you along with me throughout this year's COWGIRL Magazine 30 Under 30 2023 Gala and weekend events. Please follow me on Cavender's social media between March 10-12, 2023, for live coverage, behind-the-scenes looks, fashion content, interviews with this year's amazing ladies of COWGIRL Magazine 30 Under 30 and so much more!
See you on the trail & God Bless,
-Dani Reinhart