The Ultimate Work Boot Buying Guide
May 12, 2022
Best Work Boot Buying Guide
The only thing that works harder than you do is your work boots. So, when deciding what work boots you should buy, it makes sense that you want to know what goes into a pair of high-quality work boots that'll last. We've put together the following work boot buying guide with all the details you'll need before you buy your next pair to work in.
Starting from the ground up, let's go over some of the properties that make up a durable work boot. Whether your favorite work boots come from Ariat, Justin, or Thorogood, they all have these parts in common.
Types of Work Boot Soles
The foundation of a work boot is the sole. The sole of your boots supports you throughout the day and protects you from electrical and other hazards. Many work boots feature oil and slip-resistant soles. Some also offer barnyard acid-resistant soles, AKA all the muck you deal with when working with livestock.
Most electrical hazard boots are made from non-conductive rubber or composite materials to prevent them from completing an electrical circuit to the ground. Look for the ASTM ratings of F2412-11 for standard performance requirements and F2413-11 for those related to toe caps.
Work Boot Shanks
The spine of any boot is the shank. The shank is the boot's invisible support system constructed of metal, fiberglass, or Kevlar, and sits between the outer sole and the insole of the boot. The job of the shank is to provide support, balance, and protection from punctures when working in hazardous conditions. While a steel shank is the most protective, it's also the heaviest. Many boot brands have their own proprietary shank systems.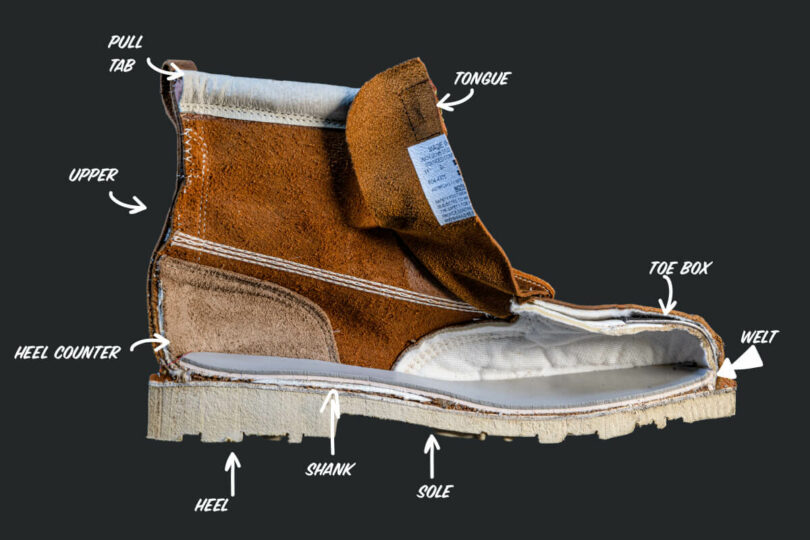 Types of Work Boot Toes
The toe is another component of a work boot that can be soft, metal, or composite. Steel toe work boots are the most protective since they can withstand a higher impact. The tradeoff for this protection is that they are heavier and do not breath as well as others.
Composite toe work boots are a lighter protection option and are often preferred when working in extreme cold or hot climates. This is because the material won't absorb the cold or heat like a steel toe does. Composite toe work boots are made from materials like plastic or carbon fiber so they can also be more comfortable for a long day on the work site or the ranch. A composite toe can also come in handy if metal detectors are something you deal with daily as they won't set the detector off.
If your job does not have to meet safety regulations or require ASTM certifications, you can wear soft toe work boots. Soft toe work boots will give you lightweight protection for working around the farm or at home on a project.
Work Boot Insoles
One of the ultimate inside jobs is that of the insole. Many work boots feature their take on the removable orthotic and combine it with microbial protection, moisture wicking technology, heel support, and everything you need for comfort when work has you on your feet all day. Nowadays, some work boot insoles are also machine washable so you can rinse out all the dirt and grime after a dirty job and keep them from getting too smelly.
Work Boot Shaft Height
It is definitely important to consider the shaft height of the work boot you will be purchasing. The shaft is the upper part of a boot measured from the top of the heel to the top of the boot. If you will need ankle support for your job you will want at least a 9″ shaft. If you are allowed to wear work shoes on your job or you are working from home, work shoes are another great option to consider.
Lace-up or Slip-on Work Boots
What wraps this all up is usually a tough waterproof leather in either a western-style or a classic lace-up. Western work boots offer the same colors and styles to choose from as everyday Western boots provide. Some Western work boots even incorporate venting along their shafts for extra breathability.
No matter your work style or lifestyle, there's no end of choice when it comes to keeping you and your feet safe on the job or the ranch.