Tips for Choosing Exotic Boots
Sep 8, 2022
Tips For Choosing Exotic Boots

Exotic boots are different from more traditional leather cowboy boots. Exotics are made with hides that comprise less than one percent of traded leather across the globe, which make it both highly desirable due to its exclusivity, and very valuable. At Cavender's, our exotic boots collection combine distinct style with superior comfort and durability. We offer a variety of exotic leathers, such as ostrich, caiman, pirarucu and snakeskin.
Difference Between Exotic Cowboy Boots and Traditional Cowboy Boots
The main differences between traditional and exotic cowboy boots are the materials used and the purpose of the boots. Traditional cowboy boots were made to withstand hard work and be comfortable while on horseback or working the ranch. The most common traditional Western boot leather is cowhide or steer. Cowhide leather boots clean up easily, are durable and stand up to rough wear and tear.
Exotic cowboy boots are made from a variety of non-traditional leather, such as snakeskin, elephant, caiman, bison and ostrich. Exotic boots can also withstand general wear and tear, but the materials used to make them are quite valuable. They may require additional care to ensure long-lasting quality.
Different Types of Exotic Boots
Our selection of exotic boots comes with many different types of leather for both men and women. Learn what features are present in some of our most popular exotics so you can make an informed decision before you buy.
Ostrich Boots: Ostrich leather is considered a luxury material due to the extensive production process they go through. Our ostrich cowboy boots come in a variety of different patterns and textures because the skin is taken from several different areas of the animal. One reason this material is so popular for exotic boots is because of the texture of the distinctive bumps. Ostrich boots are also breathable and durable, making it popular due to both style and practicality.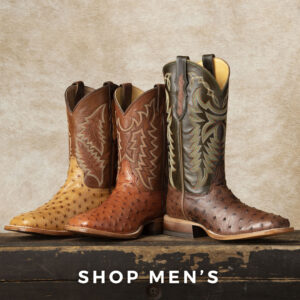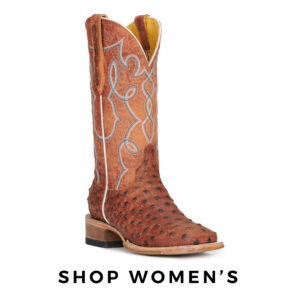 Pirarucu Boots: Pirarucu boots are sourced from fish. We also offer fish cowboy boots using big bass leather. What makes fish cowboy boots so recognizable is their distinct grain and scale-like patterns. The fish cowboy boots we offer at Cavender's are made with high quality material. Pirarucu boots come from the big pirarucu fish that live in the Amazon Rainforest's waterways. The material is durable but also flexible.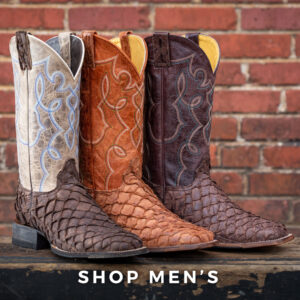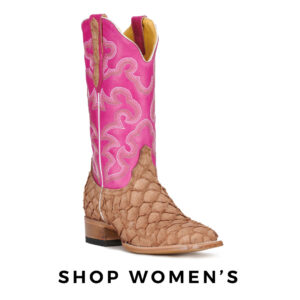 Caiman and Alligator Boots: Because of their distinctive pattern, alligator boots are a very popular exotic cowboy boot option. Our gator skin boots feature rich, deep colors and high-gloss finishes, making them the perfect option for formal events. Caiman leather is very similar to alligator leather in that they both feature high gloss finishes and rich colors. Alligator boots tend to be a little more flexible while caiman can be more rigid. The appearance of the scales differs too with caiman boots having smaller scales and alligator boots having larger ones. Caiman is a great option for someone new to exotic boots, because alligator leather can require more extensive care.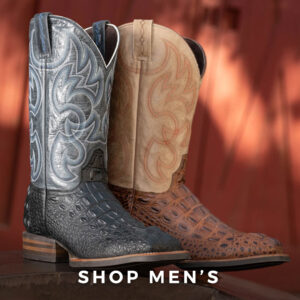 Snakeskin Boots: Another exotic boot favorite is snakeskin. Python is a common leather used in snakeskin cowboy boots because it offers breathability and a characteristic soft, suppleness. The flexibility of snakeskin boots give an almost tailored feel because they move with you. Python cowboy boots are very popular in both gender categories, but particularly with women. Snakeskin leather has been used for decades and is a timeless fashion choice.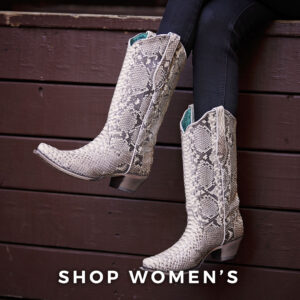 Where to Wear Exotic Boots
Because exotic cowboy boots feature more exclusive material, many choose to wear their exotics to formal events and on date nights, or basically any occasion that gives you a reason to dress up. While durable, exotic boots require a lot more care and maintenance than regular cowboy boots, so you'll want to avoid wearing exotics during any kind of dirty or rough work.
How to Care for Exotic Boots
Once you purchase your new exotic cowboy boots, you'll want to keep them in their original pristine condition for as long as possible. It's not hard to take care of exotic boots as long as you know how.
First, it's important to remember that any exotic boots with scales will need to be lubricated to prevent cracks. Apply lubricating conditioner meant for exotic boots and move in the direction of the scales to remove any dirt. Start with a small amount of conditioner in the beginning and add more as needed. Wipe away any excess.
In addition to lubricating and shining your new exotics, it's also important that you clean them regularly to ensure longevity. First, use a boot brush to clean off any dirt or debris on the boots. Then, condition the boots with an exotic leather boot conditioner. After, simply polish then apply a waterproof treatment to prevent your boots from getting damaged in wet or humid weather.
You can find all the tools you need on our boot care page.
Now that you have all the information you need to dive in to the world of exotic boots, be sure to browse your favorites for men and women online or visit us in person so you can try on a pair and get a feel for what you like best. Find a store near you.