Wedding Boots - Your Boot Guide to Wedding Season
Apr 26, 2022
Wedding Boots - Your Boot Guide to Wedding Season

Wedding season is quickly approaching and Cavender's has you covered with the perfect wedding boots for your big day. From bridal boots to cowboy boots for the wedding party, we've got options for everyone to make your special day picture-perfect. You can relax knowing at least one thing on your growing to-do list is already done: Wedding boots for the big day: check!
Boots for the Bride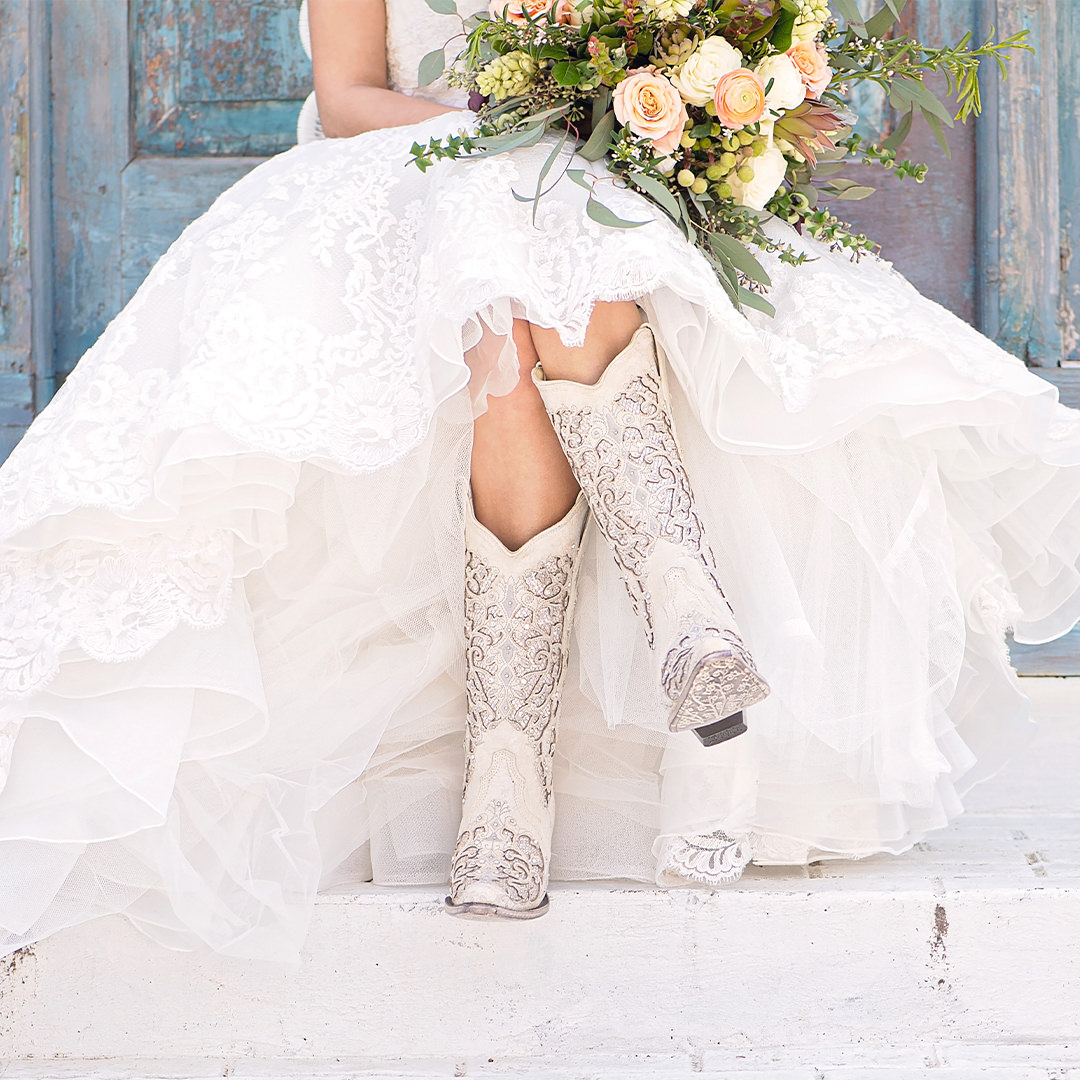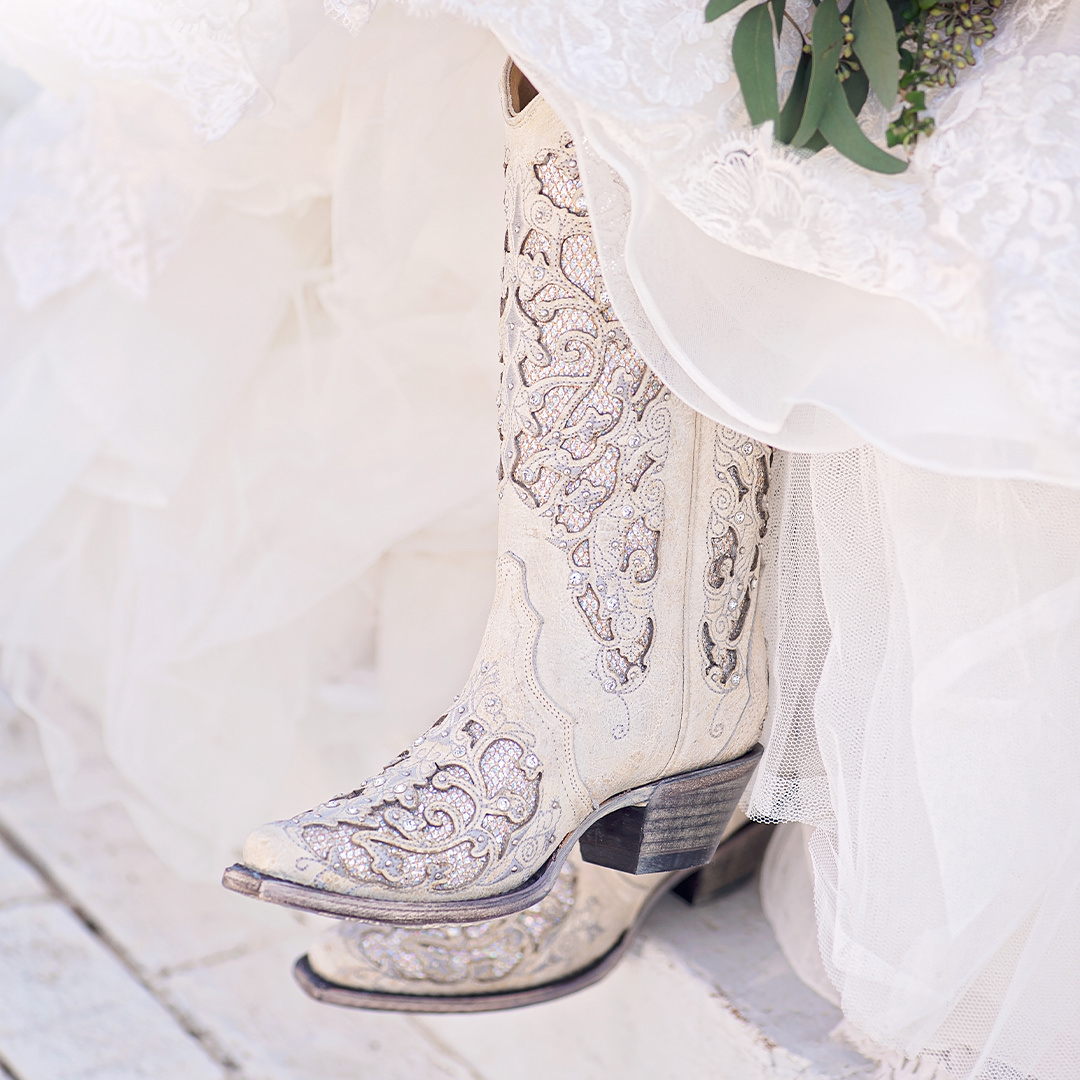 Bridal shoe options range from barefoot on the beach to sky-high stilettos, but our personal wedding favorite is the classic cowgirl boot. Fall in love all over again with these white wedding boots from Corral. Comfortable and yet stunning, they feature a gorgeous glitter inlay, rhinestones, snip toe and just enough heel to give you some lift while you spin around on the dance floor, walk around the venue greeting friends and family, and take more pictures than you can count. But these beautiful boots weren't meant for one night only. You can wear them again by styling them for upcoming formal events or pairing them with summery dresses. The color is even casual enough to go with nice jeans for a night out.
Boots for the Groom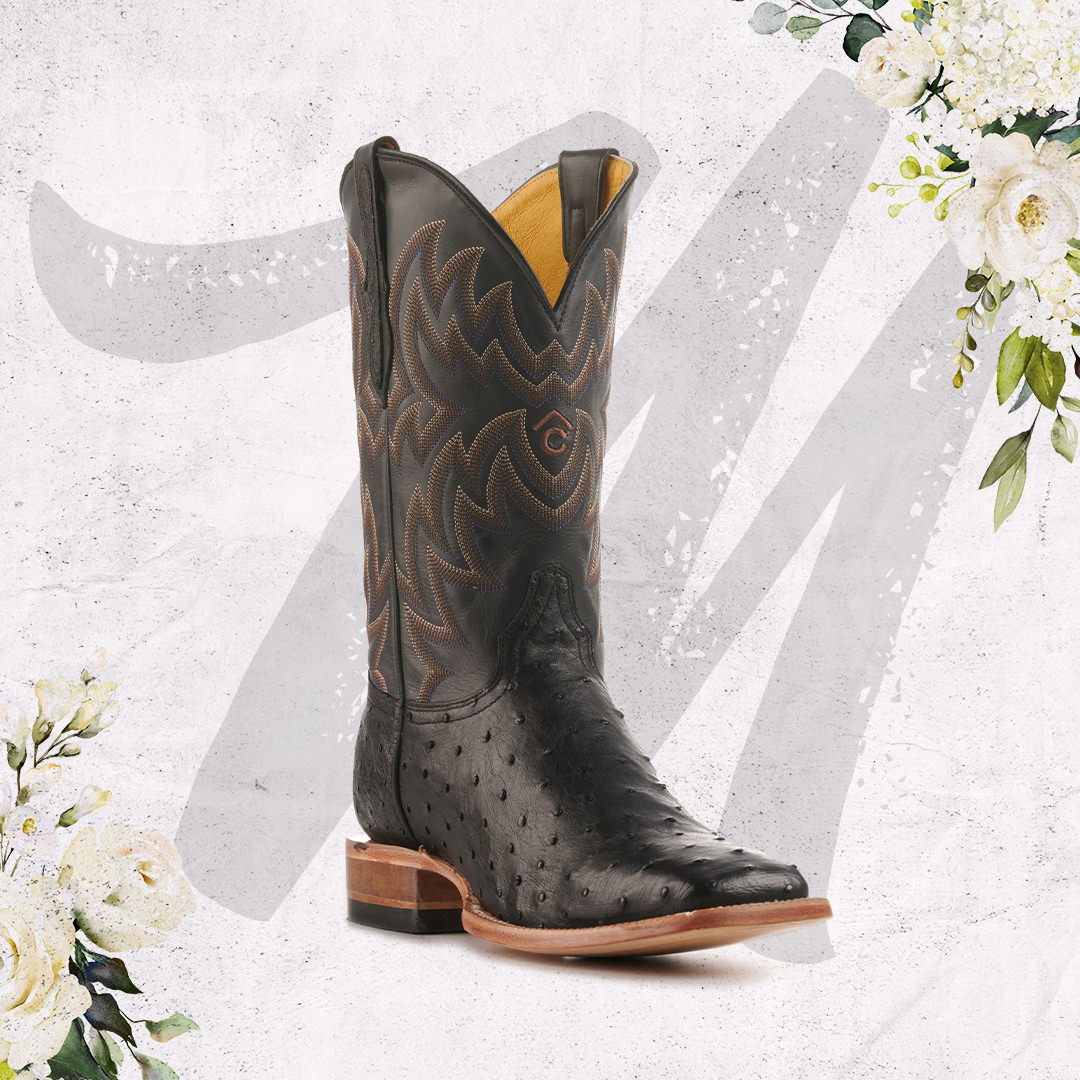 Grooms – don't think you'll go relatively unnoticed during the wedding. When eyes aren't on the bride during the big day, they go straight to you. There's just something about watching a man in complete adoration of his bride. You'll want to look good for the woman of your dreams and feel confident too. Skip the everyday boots and go with something nicer for your wedding boots on your special day. These black, full quill ostrich square toe boots will keep you looking sharp and feeling comfortable on the big day.
Boots for the Bridesmaids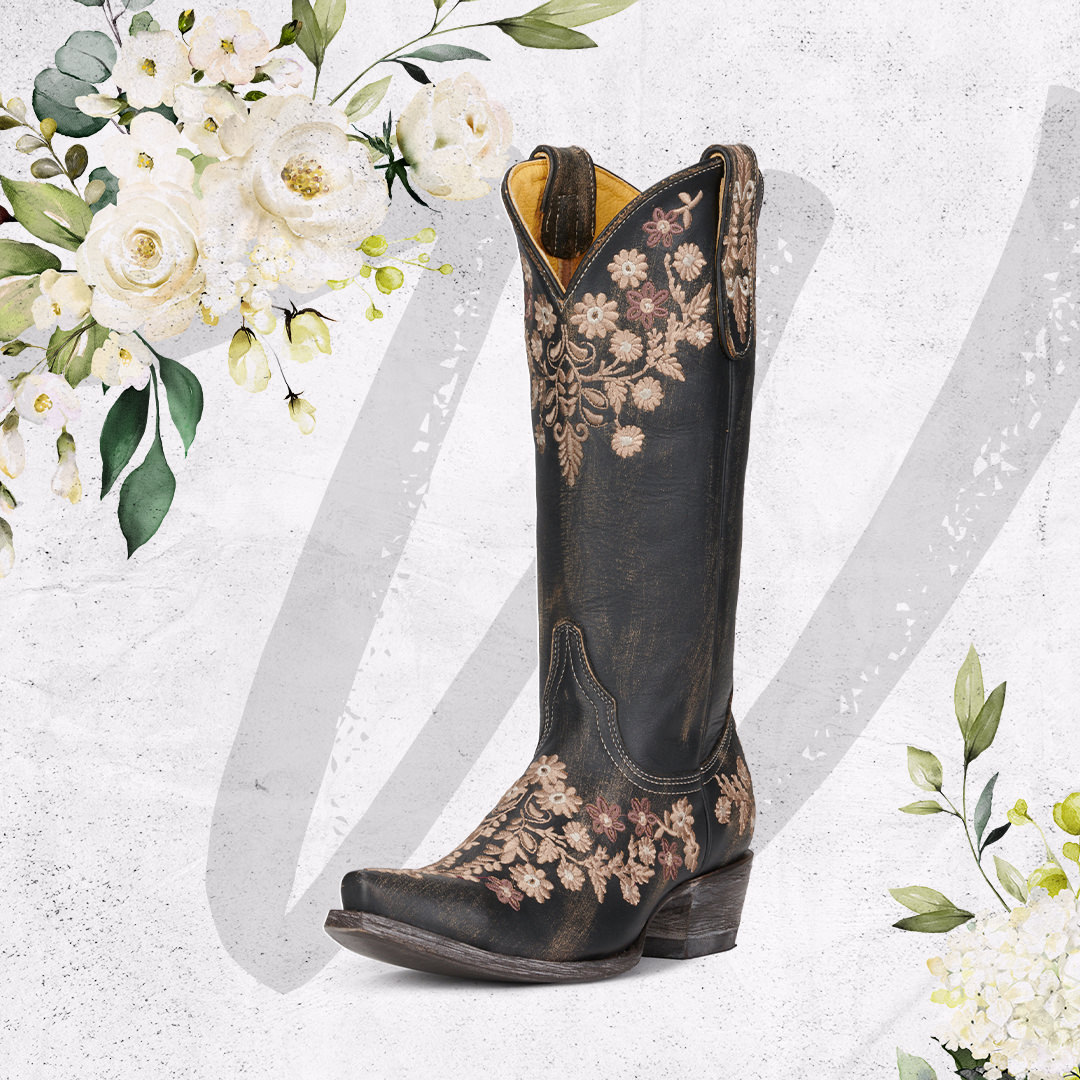 When the bride requests cowgirl boots for the wedding, go with something classic and girly like these floral embroidered snip toe boots. The floral details and dark goatskin leather are perfect dressed up for the wedding and can be worn dressed down with jeans after the big day, or with short, summery dresses that show them off.
For the Groomsmen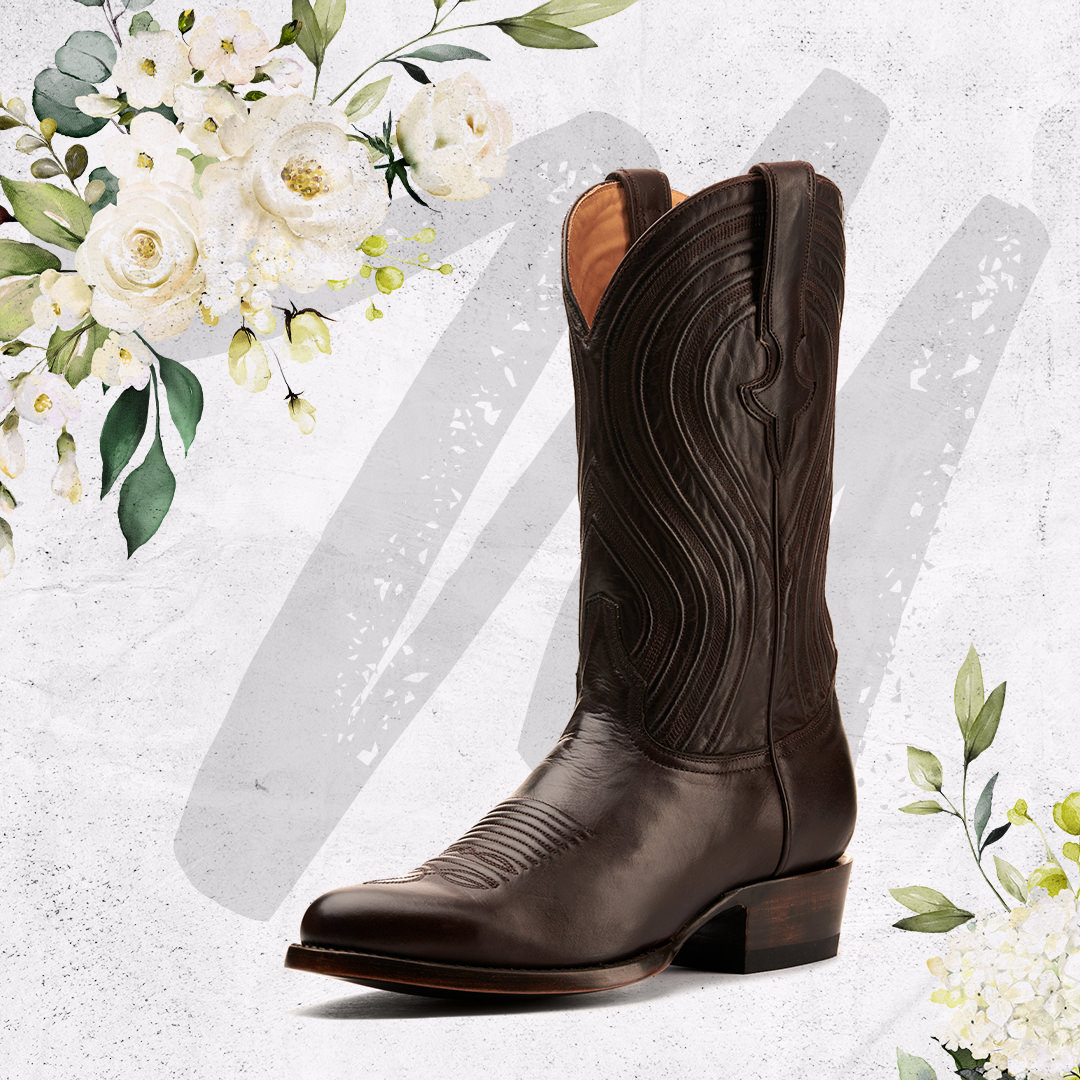 If you need a nicer pair of boots to wear to your buddy's wedding, you can't go wrong with these JRC & Sons dark brown cowboy boots. Featuring a stacked-leather western heel and premium ranch hand calf leather, you'll be dressed to the nines, looking good and ready to have a great time.
Boots for the Flower Girls
Is there anything cuter than a little girl in cowgirl boots? Add in a beautiful dress and a basket full of flowers, and it's almost too much! These brown snip toe boots by Corral are the perfect addition to your flower girl's ensemble. It also features glow-in-the-dark embroidery so you know your flower girl will be just as excited to the wear them as you'll be to see them on her.
Boots for the Ring Bearers
When it's time to pick out wedding boots for your ring bearers, go for something classy and affordable, like these black, croc print square toe boots by Old West. Featuring a range of different sizes, you'll find the right fit for even the smallest ring bearer.
Boots for the Wedding Guests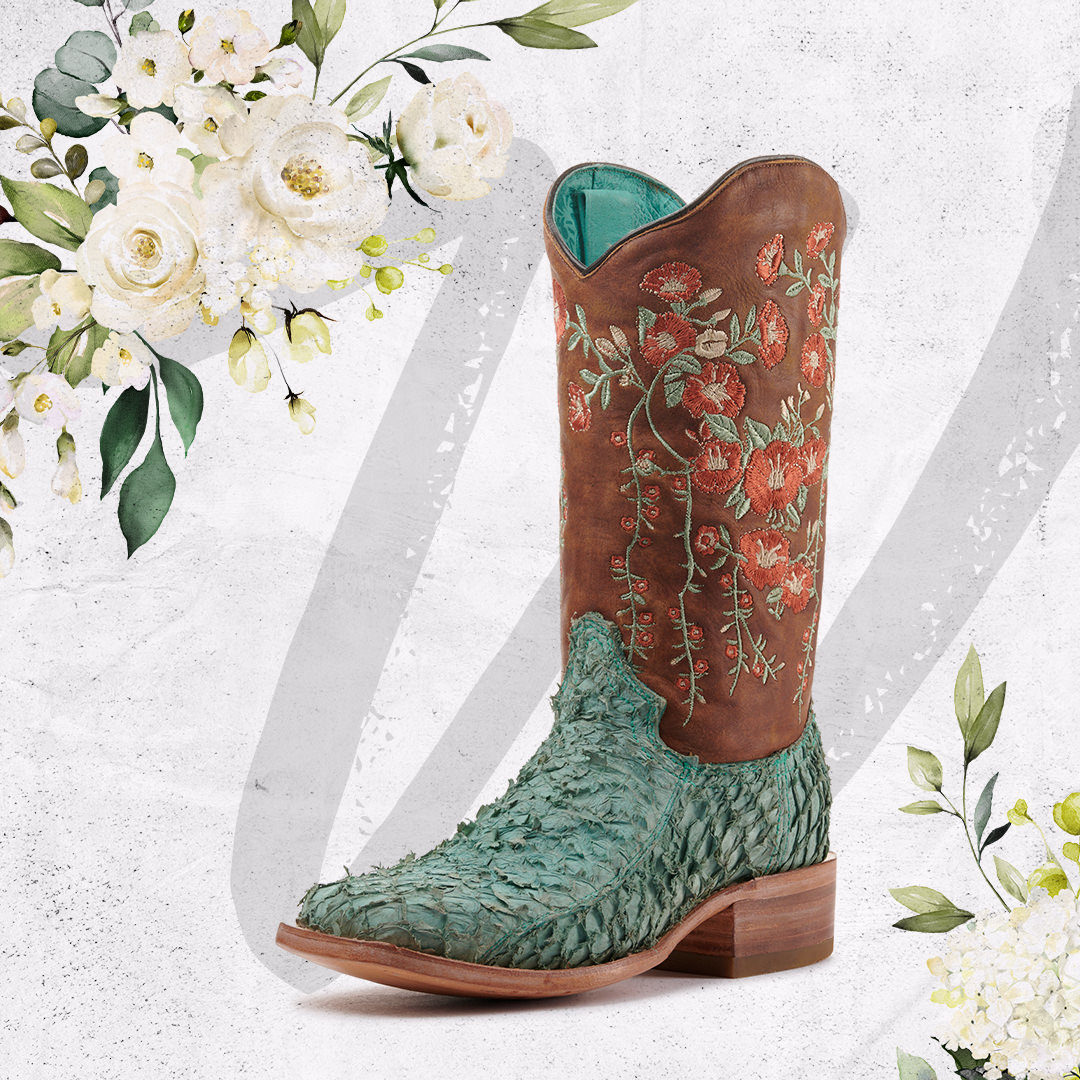 If you're not in the bridal party, but need some ideas to get you through wedding season, you can't go wrong with some of our most popular styles and brands. For women, these turquoise exotic boots by Corral are a fun, playful way to dress up your wedding outfit. For something more subtle, try these weathered brown booties by Ariat. Or you could embrace the season with some floral embroidered boots. These square toe boots by Cavender's are comfortable and sophisticated.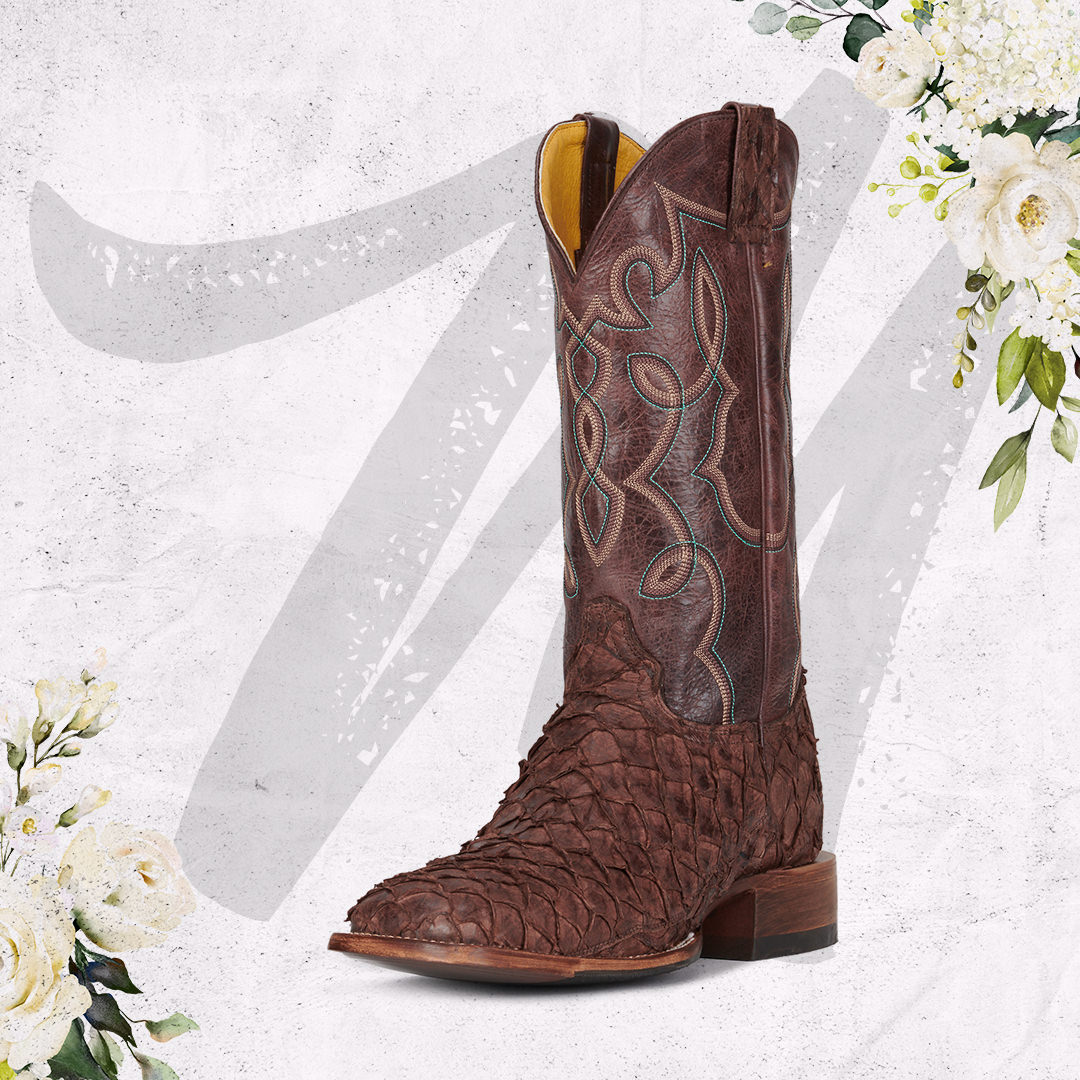 For the men, go all-out with these classy black caiman exotic boots by Black Jack. Or these brown Pirarucu square toe boots by Cavender's are perfect for that blend of comfort and style. For something that is sure to go with anything, these burnished brown full quill ostrich leather boots by Black Jack are a no-fail option.
Whether you're a bride, a groom, in the bridal party, wedding guest or wedding crasher – we have a pair of wedding boots for you. Come visit us at one of our store locations to browse more options for wedding season and try on different cowboy or cowgirl boot styles to see which works best for you. We're always happy to help.
See you on the dancefloor!