When Should I Switch To A Felt Cowboy Hat
Nov 8, 2021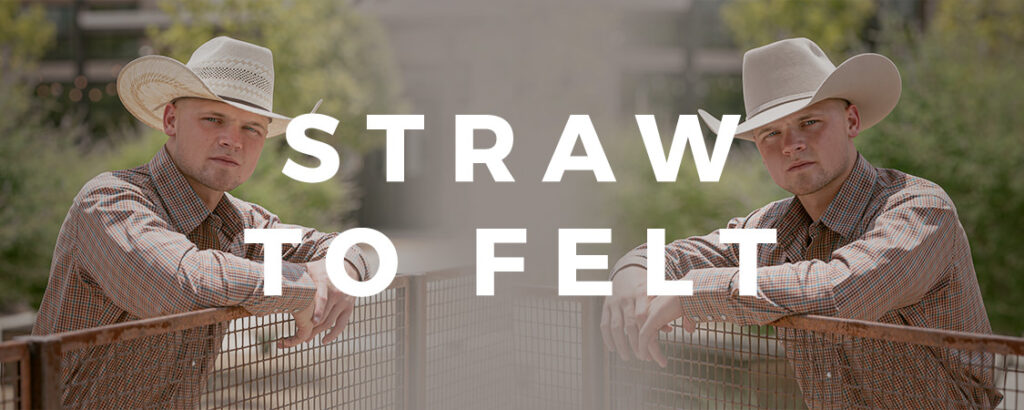 As the seasons change, so does the type of cowboy hat you wear. Often after Labor Day, it's time to get ready for the cooler weather ahead by getting the straw hat prepped for storage and brushing up your favorite felt hat. There's no hard and fast date since cool weather comes faster for Montana than Texas. Still, many use Labor Day to Easter as their unofficial guide for felt season.
At Cavender's, we believe that understanding the tradition is more critical than narrowing it down to what day to change out your cowboy hat. The weather can be unpredictable in early fall, and if most of your work is outside, it's best to let that be your guide. One easy way to transition hats is to continue to wear your straw for more labor-intensive outdoor work and then switch to felt for the evening or indoor events. 
Speaking of indoor events, felts have long been the standard for both professional and formal occasions. When it comes to weddings, conferences, and even holiday parties, anything that can be considered a dress-up event, wear your felt. Heading out the National Finals Rodeo in Las Vegas? Consider dropping into your local Cavender's to view our collection of classic western hats by Stetson, Resistol, and American Hat Company. Not only can you pick out a new felt, but get it steamed and creased professionally at Cavender's in-store hat bar that same day. 
Thanks to the popularity of felt fashion hats, ladies can throw caution to the wind and wear felt all year long. A great example are the jewel-toned dyed fashion hats from Charlie 1 Horse and Rockin' C. These are paired with eye-catching hat bands that feature vibrant feathers and a wide range of decorations to add that Western charm. These hats are perfect for turning heads at brunches, nights out, and the next rodeo on your list. 
Whether you wear your felt for work or play, use your own taste and comfort as your guide. Even at our home office, there's the transition of straw to felt that feels like watching the leaves turn. So as with many things, let your lifestyle help you decide when to make that seasonal switch.