Cavender's Supports Special Olympics Texas
Jun 29, 2022
Cavender's Supports Special Olympics Texas

Cavender's is proud to support Special Olympics Texas (SOTX). We have been a longtime supporter of the organization and are excited to continue our partnership this year with our paper torch campaign in all of Cavender's 58 Texas locations and online at Cavenders.com/SOTX. Our very own Drew Cavender has also been coaching the Special Olympics Tyler Chapter and will be coaching their softball/Bocce team this Fall.
SOTX provides opportunities for athletes with intellectual disabilities to compete in sports, and we're proud to help make that possible. We talked recently with Nia Simmons, Special Olympics Texas Statewide Corporate Relations Director, about SOTX and the importance of Cavender's paper torch campaign.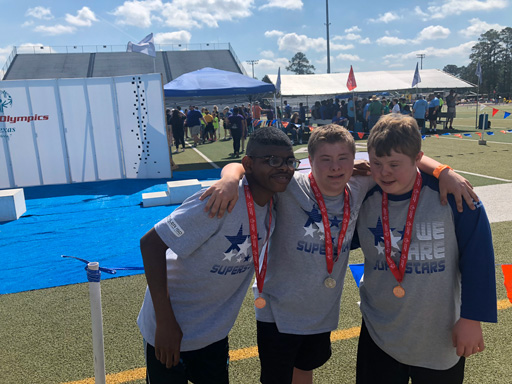 Give us a brief history of SOTX.
After Special Olympics was established on a national level in 1968, the nonprofit organization made its way to Texas in 1969 to mark the creation of Special Olympics Texas (SOTX). The first SOTX competition was held in June of that year and since then, the organization has grown significantly. SOTX provides year-round sports training and athletic competition in various Olympic-type sports for children and adults with intellectual disabilities.
Today, Special Olympics Texas is divided into four regions with 19 area offices. The organization is responsible for allowing more than 58,000 athletes across Texas the opportunity to participate in sports, leadership and health programming, transition planning, Unified Programs, and much more!
Special Olympics Texas provides these opportunities through their 6 statewide annual events, along with more than 300 competitions throughout the year. Competitions in 22 different sports are offered to athletes, in addition to health and inclusion programs for individuals of all ages with intellectual disabilities. 
What SOTX programs does Cavender's paper torch campaign support?
All funds generated by the Cavender's Paper Torch Campaign will help support Special Olympics Texas athletes' experience in sports by providing sports competition and training throughout the Lone Star State. This includes sports competitions at the local, regional, and state level as well as funding programs such as Unified Sports® and Unified Champion Schools®. Additionally, our health initiatives (Special Olympics is the largest health provider in the world for people with intellectual disabilities) are supported by Cavender's campaign.
How are the athletes, coaches, and volunteers affected personally by SOTX programs? 
Special Olympics Texas' sports competitions and programs allow for our athletes to engage in a competitive sports environment learning skills in teamwork, sportsmanship, commitment, and perseverance. The organization's health and inclusion programs create the opportunity for athletes to become even further connected to their teammates and the community. Their experiences in sport, paired with the learning opportunities presented by SOTX's inclusion programming, have allowed athletes like Adam San Miguel of Houston, TX the chance to shine both on and off the field. Adam is the perfect example of the impact SOTX programs can have on an individual with intellectual abilities. Adam has been involved with SOTX since he was in high school and, through his participation, he has learned the skills to serve in a professional position for 17 years, as well as represent Special Olympics Texas as a Global Messenger.
How have you seen Special Olympics program impact those involved? Change their life and perspective?
Special Olympics Texas has shaped the lives of thousands of athletes and continues to create the opportunity for lifelong friendships to be made. A large number of sports competitions and fundraising opportunities creates the ability for athletes to share their stories with the world in a meaningful way. SOTX gives individuals with intellectual disabilities the chance to experience inclusion and a lifetime of sport and physical activity. SOTX not only impacts the athlete's ability to participate and spread awareness of the importance of inclusion, but also has allowed hundreds of coaches, volunteers, Unified Partners, and SOTX supporters to be impacted by the athlete's passion and love. The impact Special Olympics has cannot be measured. It continues to grow and foster the deep friendships and relationships built through SOTX sports programs.
How has this paper torch campaign benefitted the organization?
The Cavender's Paper Torch campaign has supported SOTX athletes and competitions for 8 consecutive summers. The funds raised through the campaign will help support our athletes and their experience with Special Olympics Texas' sports competitions and events. Furthermore, Cavender's has been a sponsor for the organization's equestrian competitions which continue to grow each year. The campaign will increase awareness of the movement towards inclusion and ensure our athletes succeed both on and off the field.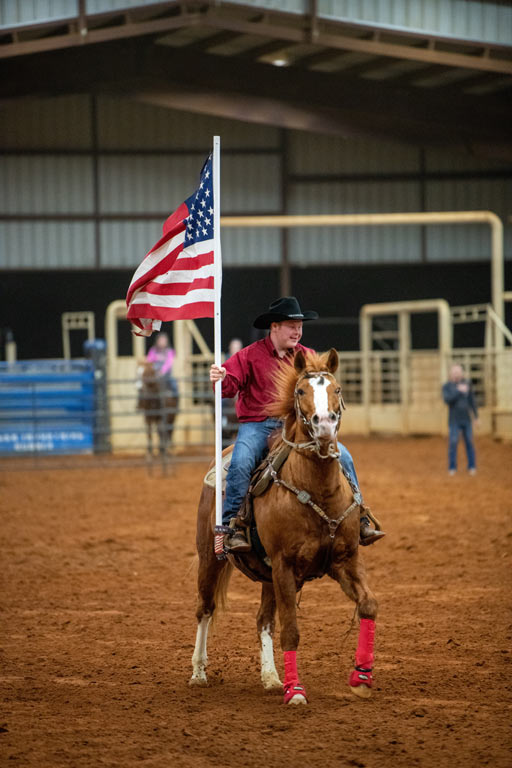 Drew Cavender on Coaching A Special Olympics Texas Team
What is the history of your coaching a Special Olympics team?
I have only been involved for two years coaching the Special Olympics Tyler Chapter. COVID-19 cancelled what would have been my third season, and after adding a second child to the mix I missed this last year as well. I will be back this upcoming Fall. I would love to get involved all year long, but unfortunately due to work and family I coach in the Fall for the Softball/Bocce team.
My first year coaching was 2018, it was only softball and the second year only Bocce, it was very interesting coaching a sport that you yourself have never actually played, but with the help from some other coaches and the athletes I was able to pick it up quickly…..the rules that is, I'm still terrible at the game. Although my time has been short with the Special Olympics Tyler Chapter I know that I will be out there as much as I can for many years to come.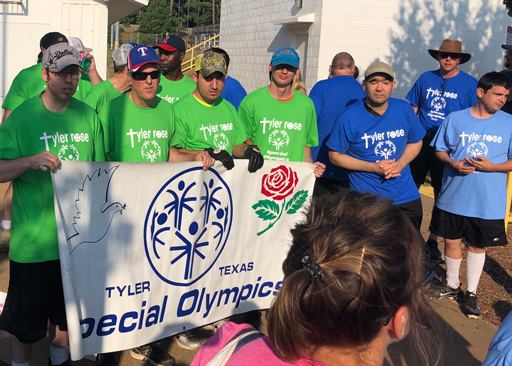 Why did you get involved? 
Ever since I was a kid I have had an interest in the special needs community. In kindergarten I sat near a young kid named Wade and another named Ronnie. I was too young to understand completely, but I knew something about them was a little different than the rest of our class. As the years went by after my kindergarten year of school I never noticed Wade or Ronnie in my classes, but that they were always still out there playing at recess everyday.
I guess kindergarten might be how it began, but it wasn't until my freshman year when Wade came up to talk to me at the Homecoming football game. It changed my life completely. Wade is and always has been bright when it comes to school, but due to his autism it was very hard for him to hold a conversation with someone. The night when Wade approached me at Homecoming he asked me something that I definitely was not expecting, "Hey Drew, I know we aren't best friends but would you please like to be my friend?" I told Wade I would love to be his friend and I will admit at first I thought that brief conversation was going to be it and we would go our separate ways. Thankfully that was not the case.
Wade approached me again a week later and said he loves basketball and would love to play. However, due to never being involved with sports he was too afraid to ask the coach. Wade looked me in the eyes and said, "Please, please, help me get on the team. I want to hangout and play with you guys." After a brief talk with our coach Wade was suited up and ready to play. When I say he was ready, I mean he shocked the coach and everyone of us on the team when we saw how good he could shoot the ball.
Basketball changed Wade's life. He went from a shy introvert who couldn't communicate with others that well to another member of the team who was doing what he could to make others better. He showed us to have fun and enjoy the game. I know I went a little long for this answer, but I could go on for days and days about Wade and it wouldn't be enough. Thank you Wade for being my friend/best man, I love you buddy.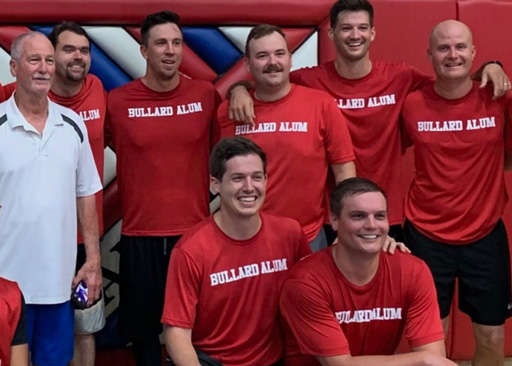 What does your role as a coach look like? How does it compare to any other team?
It's really straightforward coaching these kids. You just set them up with the tools they need to play and then step back and watch them have fun. For sure you need to coach at times to help an athlete out, but they know what they are doing and sometimes just need a friendly reminder.
How many different groups of athletes have you coached over the years? 
I've only been around two years so only two groups coaching, but I was blessed to have been able to play in games against Special Olympics teams prior to coaching. Those were some of my favorite games I ever played in.
What is the most rewarding part of this role for you?
Seeing the smiles on the athlete's faces is by far the most rewarding part of coaching.
How have you seen Special Olympics program impact those involved? Change their life, perspective? 
The Special Olympics program gives these athletes, like Wade, an opportunity to be included and compete against others who (from what I've seen) become friends. I've seen it change their life, become more confident and happy. I am so thankful to be able to be involved in a small capacity in such an incredible organization. This organization and the athletes I have coached have certainly changed my life for the better.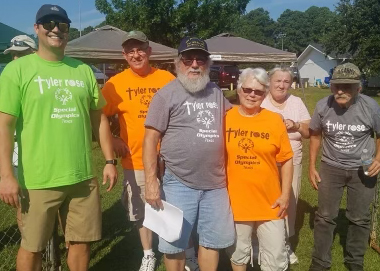 Help Us Support Special Olympics Texas
Cavender's is committed to helping Special Olympics Texas. You can join us in this effort by purchasing a paper torch for $1, $5, or $10 in-store at any of Cavender's 58 Texas locations or online at Cavenders.com/SOTX. With your help, we can make a difference in the lives of these amazing individuals. Purchase your paper torch today!